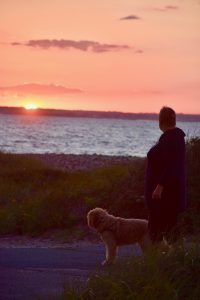 As we celebrate this Canadian Thanksgiving weekend, Betty & I acknowledge that we have much to be thankful for! Our eldest son, Andrew, turned 37 yesterday (can't believe he could be so old when his parents are so young! LOL), and our twins celebrated their 32nd birthdays this week – although Luke will be forever 8 minutes older than his younger sister, Lisa…  All of our family are a real blessing, and we look forward to FaceTiming with them later today as they gather at Andrew's for a traditional? Thanksgiving dinner.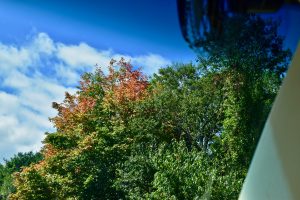 In our last post, we referenced being stranded at Horseneck Beach State Reservation in Massachusetts, and are extremely thankful that Bobby & his pit crew at Warren Auto Repair in Fall River got our Smart car back on the road again. That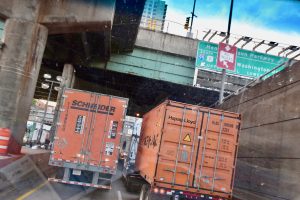 was immediately followed by a return to Major's RV in Bourne, where they tackled some further electrical problems with our coach. If there was a silver lining in those delays, it was that we were able to see the beginnings of New England fall colours before we left.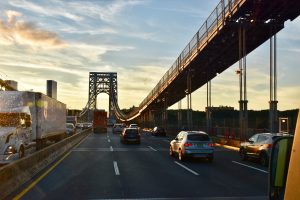 Our plans for a quick trip down Interstate 95 through New York City came to a screeching halt as we experienced a big city traffic snarl that lasted a full six hours! Before we pulled into a Walmart  parking lot in Old Bridge, New Jersey for the night, I had been behind the wheel for a grueling 10 hours that day. But we are thankful that we survived and are able to tell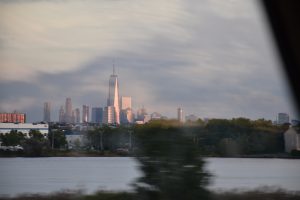 the tale, and that we don't have to put up with that kind of traffic on a daily basis! Yikes!
The next day's drive was far more pleasant as we worked our way down the Jersey Shore – through Atlantic City and Ocean City – until we reached the tip of the peninsula at Cape May, New Jersey. We found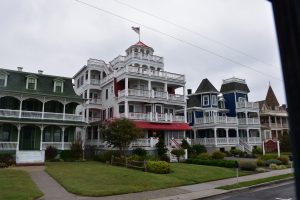 a site at The Depot Travel Park in West Cape May, and spent a delightful day and evening exploring the picturesque beachfront town. For dinner we chose an Italian restaurant that served my favourite – Saltimbocca. But when I asked to see the wine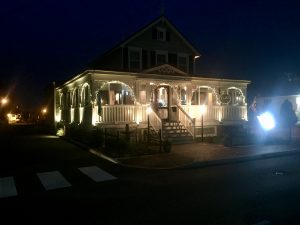 list, the serving staff informed that they didn't have one. I was directed to go to the liquor store next door, purchase whatever we wanted, and bring it back to enjoy with our meals. A much more reasonable approach than a limited wine menu at highly marked up prices. Again, we were thankful for that!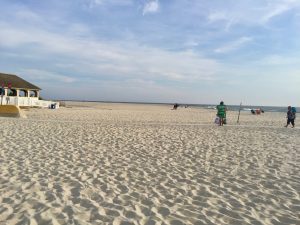 From Cape May we boarded a ferry to Lewes, Delaware, and camped for the night at the nearby Rehoboth Beach. The full service campground, Delaware Seashore State Park, was nothing like I remember from childhood visits, and we were thankful that we were not staying for more than one night.
After Delaware we passed through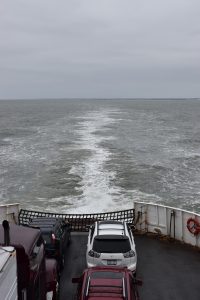 a number of states that border the coast, and with the assistance of Gavin and Betty Boop we added stickers for Delaware, Maryland and Virginia to our travel map. Arriving at Cape Hatteras a day early (or 3 days late, depending how you count it. LOL), Betty & I were thankful that the Oregon Inlet campground of the Cape Hatteras National Seashore was able to accommodate us with an electrical and water site near the beach.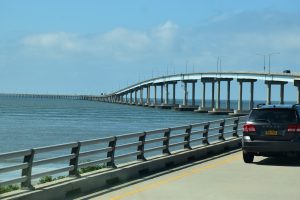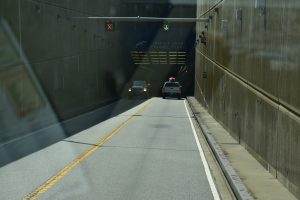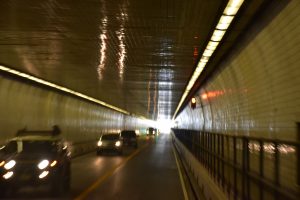 Betty & I remain thankful that we have the opportunity to enjoy this great adventure, and hope that we can share some of our journey, either directly or vicariously, with our dear family and friends in future.  Happy Thanksgiving!
Cheers!