Talk about deep freeze! When we left Winnipeg it was too cold to curl up our power cords to store underneath – they wouldn't bend! Everything that would normally have been stored in our basement had to go into our main living area until we could get to somewhere warm. As an example of how cold it was: the safety cables that attach our Smart car to the motorhome are wrapped in a vinyl covering, but when I stretched them to attach the car, the brittle covers just shattered in a hundred pieces!
Our stops for gas in North Dakota (State #1), South Dakota (State #2), and Iowa (State #3) were brutal. The cold remained and the wind chill was wicked. We picked up hand and foot warmers at the Flying J in Fargo, and bundled ourselves in blankets, hats and gloves as we drove south, each breath visible as we peered through the frosted windshield. In addition to the dash heater, we kept the furnace on for the first 5 states. Our original plan was to take our time on the journey south, but because of the frigid temps, we just pushed on. The snow was mostly gone by State #3, but when would this bitter cold end?
While Betty slept in our cozy bed, which was originally frozen to a rock hard state, but defrosted by her body temperature, I drove through the nights, taking power naps at Flying Js and rest stops – both of us fully clothed. By evening on the 27th we had passed through an edge of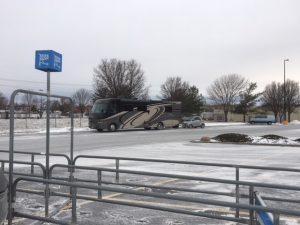 Nebraska (State #4), scouted out the BMO Harris Bank in St. Joseph, Missouri (State #5), and parked at Walmart until we could get to the bank in the morning of the 28th.
Despite numerous attempts by phone & on-line to expedite the opening of a U.S. bank account, the whole morning was spent in a modern, attractive, but otherwise deserted bank building  trying to open a simple chequing (checking) account. It took 3 hours to complete the application, and we were surprised to find it was finally set up in our son's name! The staff member had asked who the beneficiary would be if something happened to us, and we gave his name, which she proceeded to use for the remainder of the process. More time to reverse the error… Our stated goal at the outset was to get debit cards on the account, so we could complete transactions in U.S.D. Now it seems the cards will be mailed to our son, who will need to find us and forward them. Betty had to remind me to be patient. We are no longer in a rush…  (Jan. 29/18 update:  After running very low on U.S. cash, we were finally able to use an ATM with our debit cards today – more than a month after applying. The bank manager had to intervene to get us PIN numbers, as the latest correspondence to our home address hasn't arrived.)
Anyway, we were able to make our way along some scenic Kansas country roads (State #6) until we reached Oklahoma City (State #7), starting to warm up, but still not warm enough to flush the antifreeze out of our plumbing so that we could use our on-board facilities. After a pleasant sleep at the Texas (State #8) border information centre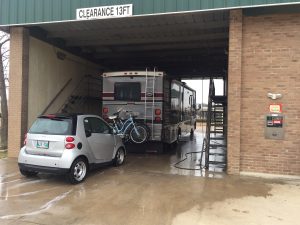 (center..) we arrived at our first campground destination: Destiny Dallas RV Park, and of course took advantage of the on-site RV wash bay to clean off the road grime before checking into our site.
Rather than driving over New Year's, we have decided to stay for a week, and put some things away. The local news, and folks we meet are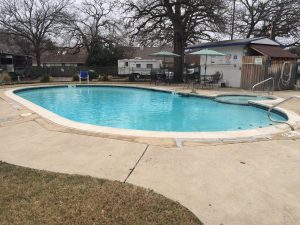 talking about how cold it is here just now. But we can't help but smile and think – It's all relative: the coats are off, the fountains and swimming pools are open, and our power cords are flexible!