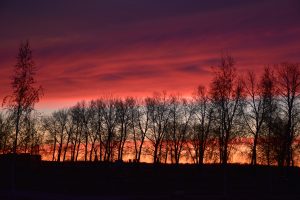 Life has been busy for Betty & me since our return to Winnipeg last month. Because our blog chronicles our travels on the road, there have been no updates recently. We have been able to reconnect with our family and many of our friends, but are still getting questions about our "down time". Here's a very brief update: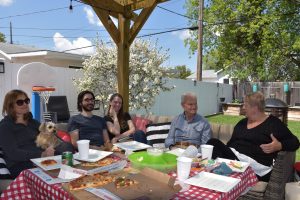 We've settled into our campsite at Town & Country, watching the glorious sunsets and appreciating the return of warm weather, green grass and leafy trees in Manitoba. We've flowered out around our site, and added cucumber and tomato plants, with the first crop of tomatoes due any day now.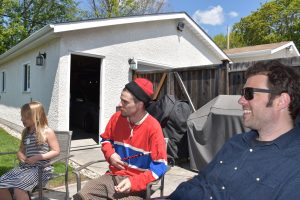 Last month my brother, Allon, was able to visit from the Yukon, and we celebrated his and son-in-law Adam's birthdays at Kevin and Valerie's home.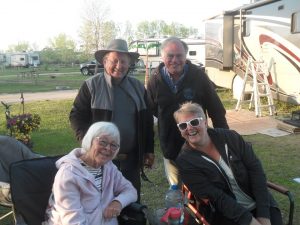 Neighbours of Betty's brother, Jack, from southern Ontario stopped by on their way through Manitoba. We had also enjoyed a visit with them in Yuma, Arizona the winter before last.
Our friends, Peter & Janet from Manitoulin Island, featured in a post from June 2018, stopped in for a dinner together and a far too brief visit on their way through to their son's in the west.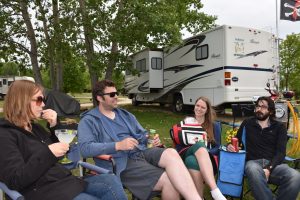 A great Mothers' Day celebration was held at our campsite last month, followed by a wonderful Fathers' Day family gathering here this month.
Betty has expanded her sewing centre into our add-a-room, and is trying her hand at quilting, with great success so far!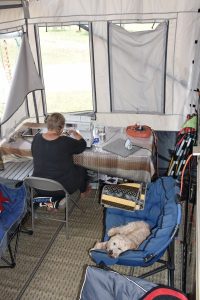 I have completed a series of golf lessons, and am looking forward to getting out on the links with our dear son, Andrew, in the not distant future. The new clubs purchased in Florida this winter are performing well so far.
I also completed a "travel photography" class, and have signed up for a series of "digital camera 101" lessons. Crossed fingers for better pics to come!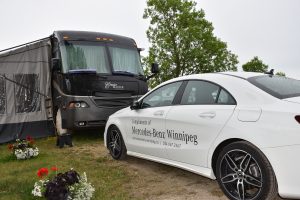 The Smart car went in for service last week, and we were forced to drive a new Mercedes Benz in its absence. Tough job, but someone had to do it… The CruiseMaster goes in for an oil change next week, on our way to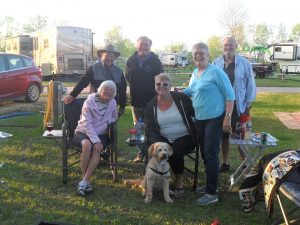 the Winnipeg Folk Festival in Birds Hill Provincial Park. With the able assistance of our wonderful neighbour, Brian at Town & Country, we have now completed the transition to all LED lights in our motorhome. Bet's bike got a major tune-up since our return, and we're looking forward to many more rides together soon.
We're booked for our first major Family Motor Coach Association conference in Minot, North Dakota in August, and have begun more detailed plans for our fall and winter trip to Arizona, as we continue our goal of visiting 48 states and 10 provinces during our overlandish odyssey.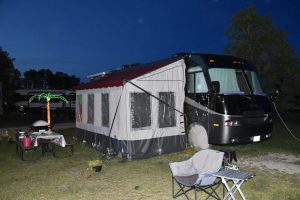 Cheers to all for now!