It happened again this month.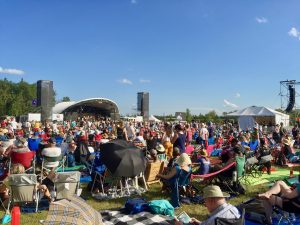 In fact, it happened again for the 46th year in a row: The totally amazing Winnipeg Folk Festival!
Betty & I had heard good things about the Winnipeg Folk Festival (WFF) before moving from Calgary in 1987. We had always intended to go, but never quite got around to it for the first 25 years, despite living a few doors down from the festival's artistic director.  Block parties at his home were always a treat – with a wide range of musical instruments and styles coming out to join the fun, food and frolic.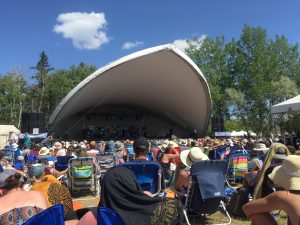 So about six years ago we finally got around to it, and immediately wondered how we could have missed so many great years of this groovy experience. We were hooked and mesmerized right away by the amazing idyllic world created in Bird's Hill Park for four days each year.
Here are just a few observations: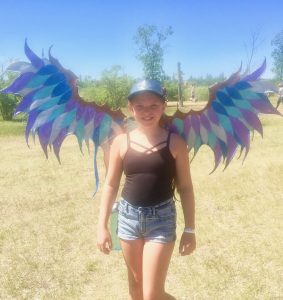 The Vibe:  The festival attracts a huge crowd, from the very old in wheelchairs and walkers, to very young newborns cradled in their parent's arms. Every race, colour, creed, and sexual orientation is represented, with the common sense of respect, love, peace and harmony everywhere. WOW! Somehow, once attendees enter the park, they immediately become mellow. There is no fighting, yelling, swearing, or other form of bitterness. Somehow people get along with each other for a few days. Yeah!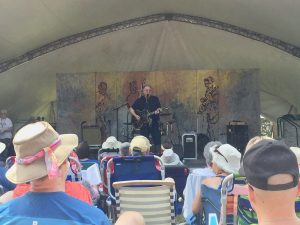 The Organization:  After 46 years, the festival organizers have learned a few things about what works, and what doesn't, in creating this special vibe. About 2,800 volunteers each year – many of whom have faithfully volunteered for 10, 20, 30, or even 40 years – attend to every possible detail, from parking to check-in to stage set-up and take down, to people conducting guest surveys, to garbage removal and so much more.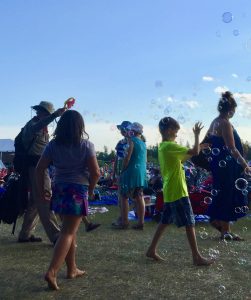 Garbage: Back in the day when Woodstock birthed rock festivals everywhere, garbage was a prominent by-product, both during and after the event. (BTW, the above-pictured John Sebastian actually played at the original Woodstock!) But despite many thousands of attendees at the Winnipeg Folk Festival, you'd be hard-pressed to find any litter on the ground. Volunteers attend to recycling bins around the park, and any leftovers from the many food kiosks are dutifully directed to the correct recycling bins. Water spigots dot the park, with participants encouraged to bring and use refillable bottles for free clean water.
The physical structure:  Seven daytime stages provide a wide range of musical options, with folks congregating in front of the main stage for evening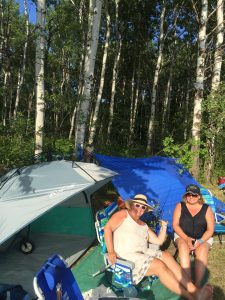 entertainment. Often much of the anxiety and frustration at concerts without assigned seating occurs when you settle in, only to have someone stand or sit in a tall chair in front of you, blocking your view of the performances. The WFF has developed a number of respected traditions to address this issue. A tarp walk is organized each day, allowing those who want to sit on tarps front and centre to select their spot in a planned process. Those itching to dance to the music are encouraged to do so on one side, where they can move to the groove without disturbing others. The wheelchair section is on the opposite side, with seating areas for those in short chairs, and other areas for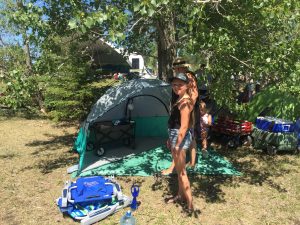 those in tall chairs. Day tents and hammocks border the woods that surround the venue, and a large children's area is well occupied by family groups, with bathrooms and room to run at the back of the site. It seems there are people constantly on the move between stage areas, but it all occurs fluidly and respectfully, with no bumping, pushing and shoving along the way. Wow, what a beautiful experience!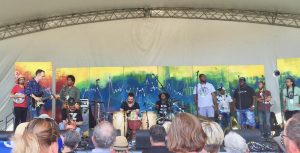 The Music:  Of course, the main event is the music.  While past headliners have included Joan Baez, Arlo Guthrie, Bruce Cockburn, and the Barenaked Ladies – to name but a few, some of the best music comes from what are called "workshops" during the day. The organizers apparently pick disparate groups of musicians and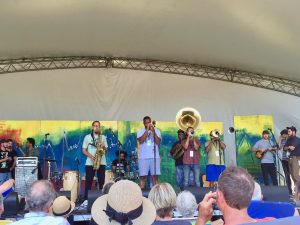 put them on the stage at the same time to entertain and challenge each other. Ideally the session ends in a jam, with a group from Los Angeles making sweet music with another from Nunavut, and another from the Netherlands.  Usually these musicians have never before met, but they end up united in a shared evocative & magical musical experience.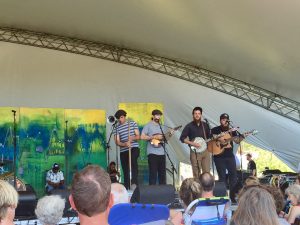 Obviously volumes could be written about this event and its music, but I would like to end with an observation from this year:
I arrived at a daytime stage just as one group was finishing. In short order the volunteer sound staff removed their equipment and set up for the next performance, which included three groups totalling 16 musicians playing 16 different kinds of musical instruments. Each group also had vocals, so the sound crew needed to mike everything and everyone so that the voices and instruments could be heard without interference at the correct volume. What an amazingly professional job they did in a very brief turn-around period, with the audience and all musicians able to enjoy the experience without annoying feedback or other sound distortions. This was repeated over and over again at every stage and on the main stage, with many musicians noting how well they were treated at this special event.
The 46th Winnipeg Folk Festival is now over, but Betty & I are already planning our schedule for 2020, so that the 47th is another we hope not to miss.
Cheers!