"Say what??"
It's fun to hear all the variations on the English language in south Texas. On South Padre Island we see license plates, and meet people, from all over North America. It's fascinating to listen to the colloquial phrases that are common expressions for one area of the continent, but not familiar in other areas. Of course, English isn't the only language spoken – most of the over-the-air television stations in our campground are in Spanish, and bilingualism is common in stores and on the streets – just not the French/English bilingualism we are used to…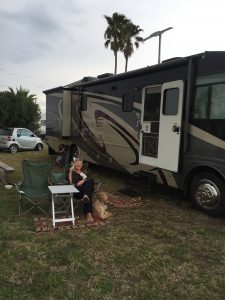 Not to say there isn't a significant Quebec contingent here. Our good neigbours from our last site were French Canadians. Johnny (Jeanny) loves to fish and brought us a great supply of fresh wild shrimp which we are still enjoying. We hope to get a further supply before we leave next month.
But back to the English language issue at Isla Blanca County Park (pronounced issla — the 's' isn't silent – which makes me wonder about John Donne's "No Man Is An Issland…" or "Treasure Issland". We stopped at the local Walmart to pick up a cable to connect my MacBook to our TV, and I asked the Electronics Department staff what they had. He asked me if our computer and TV had ashdemmy connections, and I said no, not as far as I know. After walking away, I noticed a rack of HDMI cables, which work just great!
Of course struggling with effective communication isn't always with someone from a different part of the continent. This morning Betty & Charlie came home from a long walk on the beach. I was just getting up, so asked her what I should wear. "Is it a shorts day?" She looked at me quizzically and said "No, it's not a short stay. You know we're here for another month!" LOL
Real news, as opposed to the fake stuff, appears hard to come by here. But the other day we heard there was going to be a feature story coming up about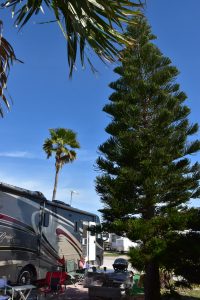 homeless vets in South Texas, and Betty wondered why veterinarians aren't paid enough in this state in order to afford a home. Everybody here seems to have pets! "Oh, you mean those vets…!"
Anyway, every day is a treat, and our new well-treed campsite is surrounded by friendly neigbours from all over. There is a real sense of community in this part of the park, with many seasonal campers, and we are looking forward to hearing the dialects and learning the unique phrases that help us all communicate more effectively with each other!
Cheers!