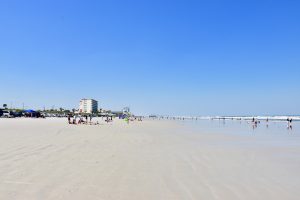 Now that Betty & I are back in Friendly Manitoba for the summer, how do we assess our recent visit to Florida? First, it can be said that so many northern snowbirds winter in Florida that a story about our tour of the state does not constitute news for anyone outside of our immediate friends and family. In reality, as we age and our memories fade, this review is as much for reminding ourselves about our winter adventure, as informing others.  Of course, this kind of assessment is purely subjective, but hope you can still enjoy the read.
The Weather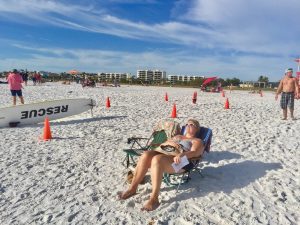 One of the main reasons snowbirds winter in Florida is to escape the potentially brutal cold of a northern winter, and to enjoy the mild and sometimes tropical temperatures in the south. These days regional weather can be quite unpredictable, but there is no doubt we picked the right state to visit this year! (Fingers crossed that Arizona has a warm winter next year, as that is our anticipated destination.) January, February, and March were all warm months in Florida, with many days and weeks moving into the stinkin' hot range, where the beaches beckoned and margaritas kept us cool and lubricated. Flip flop weather indeed!
The Campgrounds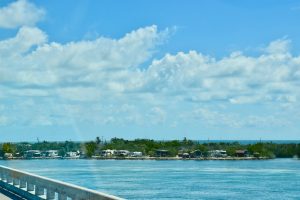 From trying unsuccessfully to book sites in the Florida Keys state parks eleven months in advance, we knew certain popular spots would be inaccessible. Betty & I prefer to stay in national and state parks, but as it turned out, nearly all southern Florida state parks were fully booked for the winter. During our travels we were able to pick up a day or two at some nice parks, but often there was nothing more available.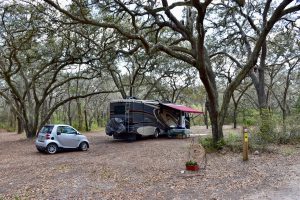 We had not previously stayed in Florida State Forests, and found them to be a great, cost-effective alternative, especially since we are now better equipped for boondocking. Some state forest campgrounds came with electricity and/or water and a dump station, but you couldn't always count on services being available. Some of our best extended stays in Florida were at beautiful unserviced state forest campgrounds.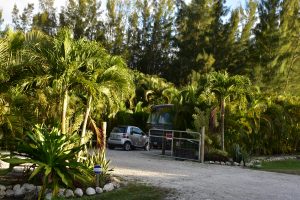 Growing in popularity for us and others are Boondockers Welcome and Harvest Host locations. All of our experiences with both organizations were positive, with some clearly rating as trip highlights.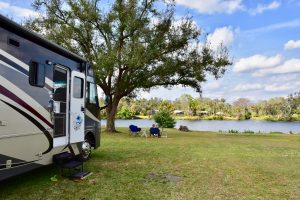 Betty & I generally steer away from private campgrounds, but the Ocala North RV Park in Reddick, Florida is one we would consider again, especially if they could find the correct Scottish spelling of the town's name. lol.  Some of the county campgrounds were very pleasant, including Markham Park and T.Y. Park in the Fort Lauderdale area, and Manatee Hammock Park further up the coast at Titusville.
Traversing The State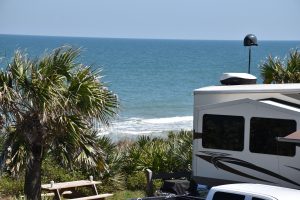 Unlike Manitoba, Florida has invested in providing wide, smooth roads for travellers. Despite a few rough construction/congestion patches on I95 through the Gold Coast area, most roads were well-marked and a pleasure to drive. In planning our adventure, we estimated that we would drive 7,916 miles on this portion of our overlandish odyssey. Our odometer told us we actually travelled 8,026 miles, so we weren't far off.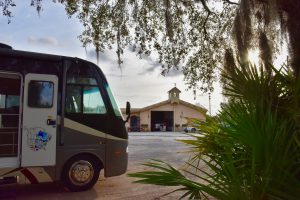 Many snowbirds find one preferred site, and book it for the winter. Because this was an exploratory trip, we chose to visit most of the state, working our way across and down the gulf coast to Key West, and then up the Atlantic side to Amelia Island.
Meeting our kids and grandkids at Orlando's Disney World in February was, for sure, a highlight of this memorable journey. We pray that those fond memories remain with them, as they will with us, for a long, long time!
Future Trips?
We certainly hope that this was not our last visit to the sunshine state. If we return, would we replicate the most recent trip? The answer is "no". Not because there was anything wrong with exploring as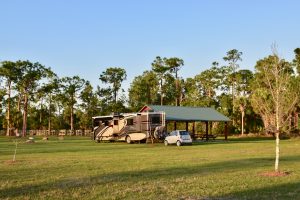 much of the state as possible in the time available. But now that we have done that, we have identified some of our favourite spots, and would like to go back and stay longer at a few preferred locations, instead of almost constantly being on the move.
While we still value spontaneity, we would aim for a better Internet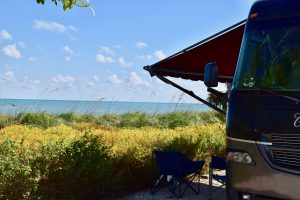 connection in order to book Bahia Honda, Curry Hammock, and John Pennekamp State Parks (and Long Key, if it re-opens) in the Florida Keys. We would also try for a beach side campsite at Gamble Rogers Memorial State Recreation Area north of Daytona Beach as well. Not as congested, Big Lagoon State Park on Florida's panhandle – with nearby Gulf coast beaches at Pensacola – was also a favourite.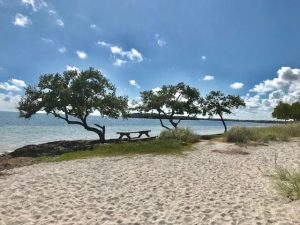 There is obviously much more that can be said about the people, places and attractions we visited in Florida, but this little vignette is beginning to exceed my preferred blog post length. We now have hard copy and electronic files related to each of our trips, and are accumulating info for upcoming adventures. If future travels are anywhere near as outstanding as this past winter in Florida, we'll be more than happy! Here's hoping that your journeys are just as joyful and jubilant!
Cheers!