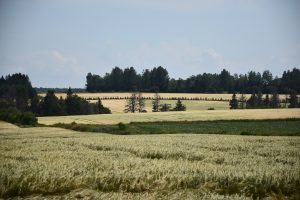 The visual image that most often comes to mind when thinking about Prince Edward Island is that perfect pastoral setting, where there are beautiful shades of green everywhere – even on the gables – and everyone is kind. OK, that might be a bit of an exaggeration, but after spending a day here, it's not too far off!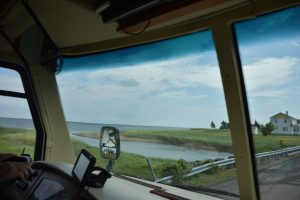 From Shediac we drove down the New Brunswick coast until the Confederation Bridge came into view. I think it was a pipe dream for many years to establish a fixed link between PEI and the rest of Canada, (sorry Newfoundland), but at some point someone had the vision and ability to make it happen. It is quite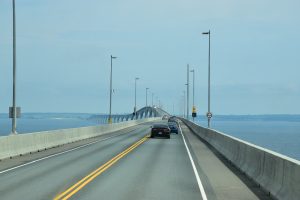 the experience to drive the 12.9 km (8 miles) from one end of the bridge to the other, rising 60 meters above sea level to allow ocean-going vessels to pass.
Once on the island, it was not long before we reached our first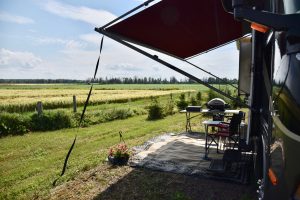 Boondockers Welcome spot. True to our expectations, it was a very pastoral setting, as reflected in the attached pics. For most of our stay, we couldn't confirm that our hosts were kind, because they weren't there! They texted us a picture of their property and welcomed us to stay, even though they were rv-ing in Ontario at the time. While we had an address, there was no number at the entrance to the property. We drove in, set up, and had an ongoing laugh that maybe we had set up on one of their neighbour's farms, and they were just too polite to tell us to leave! Does that remind anyone of European Vacation? LOL.
As it turned out, Heath came by as we were preparing to leave, and yes, he was as kind and generous as our preconceived notion of a PEI resident. Yea Heath!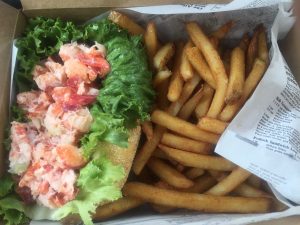 Betty & I spent our first day exploring much of the western end of the island. After stopping in Summerside for a huge fresh lobster roll with fries, we visited a series of buildings made of glass bottles (I should have known there was another use for all of those empty wine bottles!) before
carrying out a search for a brewery that was a possible Harvest Host site. Is there a theme starting here? LOL. As with the Boondockers Welcome site, there was no road sign leading to the brewery, so we explored a number of red dirt paths that barely accommodated the Smart, and would have been far too much for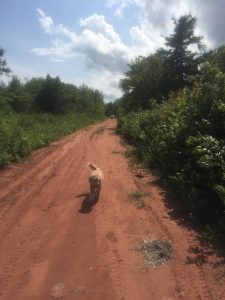 the old Boy. It took Betty's mind back to the many Sunday afternoon drives with her family, when her father was most happy to see grass between the two wheel tracks in the isolated lanes. So that's where Bet's adventurous spirit comes from!!
In the end, we booked into Cabot Beach Provincial Park on the north shore, and spent a very enjoyable day today relaxing on the beach. Our campsite is amazing, with ocean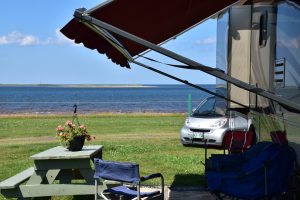 views out our windows, and a vast cliffed seascape by our patio. We'll have another day here before heading to the Charlottetown area, passing Cavendish and Anne's green place along the way. It may be too soon to declare that Prince Edward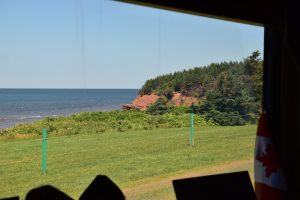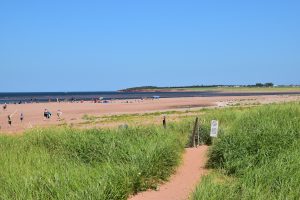 Island is the perfect pastoral province, with only warm, welcoming residents, but we're off to a great start in this adventure in paradise!
Cheers!