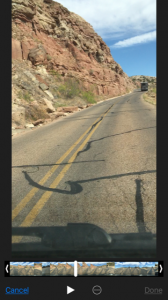 If anyone is still wondering: Yes, we made it up the hill at the Palo Duro canyon in Texas. Betty videotaped the potentially fateful feat, but we're still not sure about posting video on this blog. So we'll see if we can add a couple of pics taken from the Smart car as it followed the Boy up. The plan was, if I started to roll backwards, Betty would catch me with the Smart, putting on the parking brake to prevent us both from cascading over the sheer cliff face. Fortunately, we didn't have to implement that perfect plan, and are alive to tell the tale! LOL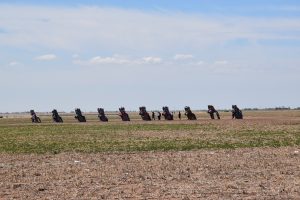 Before we left Amarillo, we made the slight jog westward to Cadillac Ranch, an art installation showing big finned cars that presumably got caught by the wind going up or down Palo Duro canyon, went over the cliff, and all landed face down in a nearby farmer's field.  Not sure if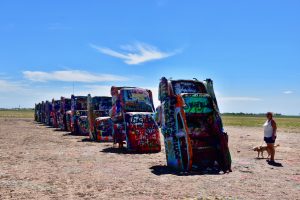 that's true, but hey, you gotta tell your kids something about the risks of riding in big finned cars!
Anyway, on to the main focus of this post. We are now in Blake Shelton land, otherwise known as Oklahoma. We haven't seen him or Gwen Stefani, his main squeeze these days, but have been on the lookout from our campsite at Lake Thunderbird, at the south end of Oklahoma City, to Camping World at the extreme north end. It seems like a very long drive, even with most of it on the Interstate, but many miles are past white fenced ranches on beautifully undulating land.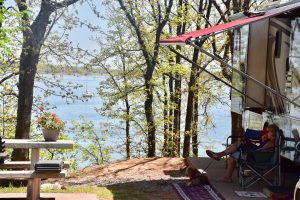 We had tried to make reservations for Lake Thunderbird State Park, but were unable to as our arrival date would have been less than 5 days away. The reason we couldn't book more than 5 days in advance was the same reason you may be seeing back-to-back posts now. Being at the bottom of a deep canyon, I had NO cell phone or Wifi reception, so was more or less disconnected from the outside world until we got back above ground level. I had no idea I was such an addict! (Bet wrote this last line during her review prior to posting)
As it turned out, we were able to find a 50 amp full-service site on a level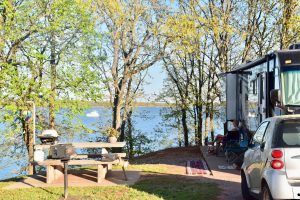 cement pad, immediately adjacent to the lake, for the "senior citizen" rate of $28./night. Having spent so much time in the desert, it's been great to sit out by the lake and watch a variety of boats go by. Surprisingly, some of those boats are quite large for what appears to be a relatively small body of water.  As they pass our campsite, we train our binoculars on them to catch a glimpse of Blake and Gwen, but nothing yet…
We'll keep you posted!
Cheers!