"Looking out at the road rushing under my wheels
I don't know how to tell you all just how crazy this life feels
Look around for the friends that I used to turn to to pull me through
Looking into their eyes I see them running too
Running on, running on empty
Running on, running blind
Running on, running into the sun
But I'm running behind."
Like all other Canadian snowbirds, Betty & I were told to head for home before the COVID- 19 virus catches up with us. In addition to our regular travelling songs, Jackson Browne's "Running On Empty" seemed to capture our mood and experience, but it could just as easily have been Bruce Springsteen's "Baby We Were Born To Run", Ten Years After's "Going Home" or "The Long & Winding Road" by the Beatles. Lol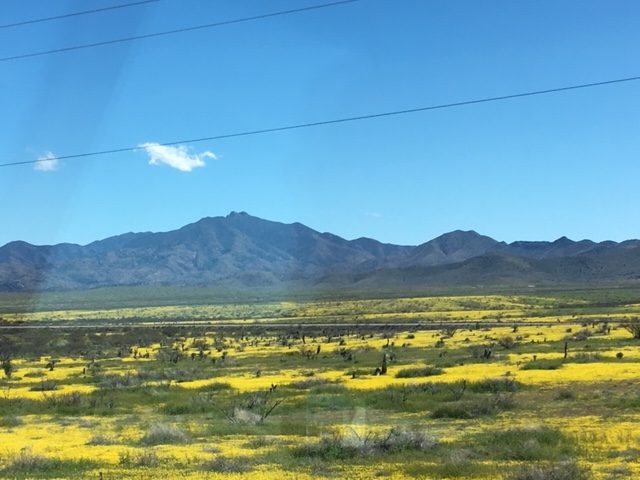 From the Painted Rock Petroglyph campsite, we headed east on Interstates 8 &10 to the Pima County Fair campground, where the FMCA International gathering was to be held this month. Of course, everything is cancelled. Lots of full-service sites were available, and for $28. we were able to flush out our tanks (after a winter of limited flushing) and re-fill our water.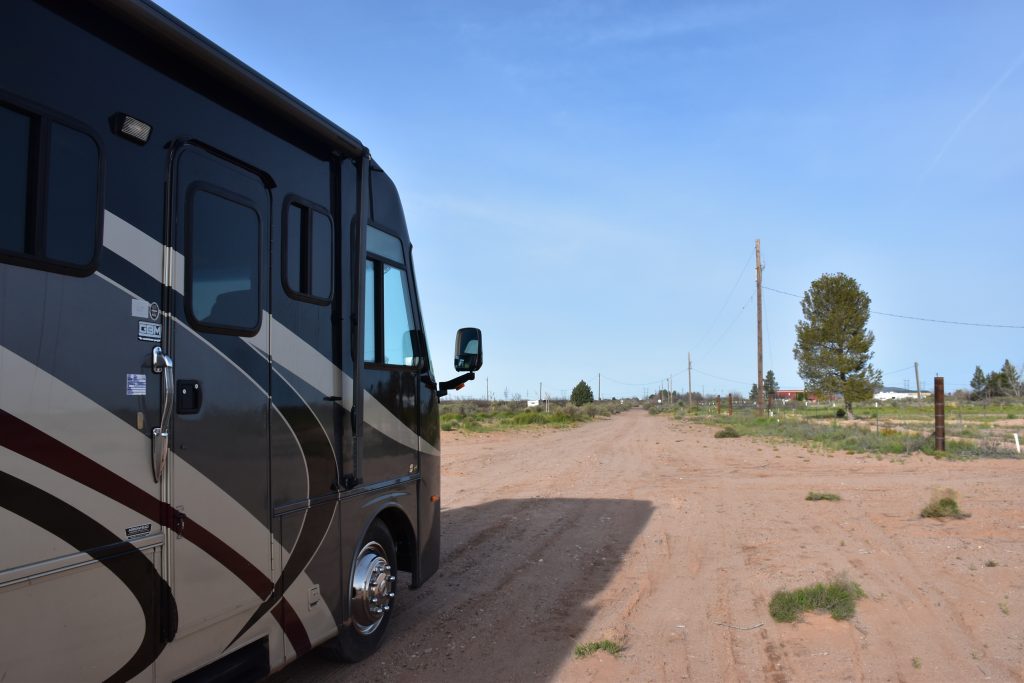 Our next night was spent at a quiet Boondockers Welcome spot in Deming, New Mexico. In keeping with social distancing rules, we were able to stay well away from our hosts, who were back at their home base in North Dakota at the time. The site is a vacant lot on a dirt lane, but served our purpose well.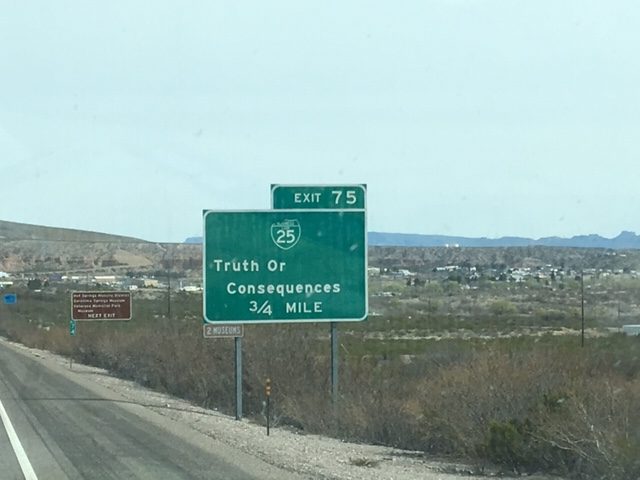 By the time we reached Coronado Campground in Bernalillo, New Mexico, where we had previously enjoyed a stay while visiting nearby Albuquerque & Santa Fe, the campground was reduced to its ordered limit of half capacity, with no sites available, even for dry camping.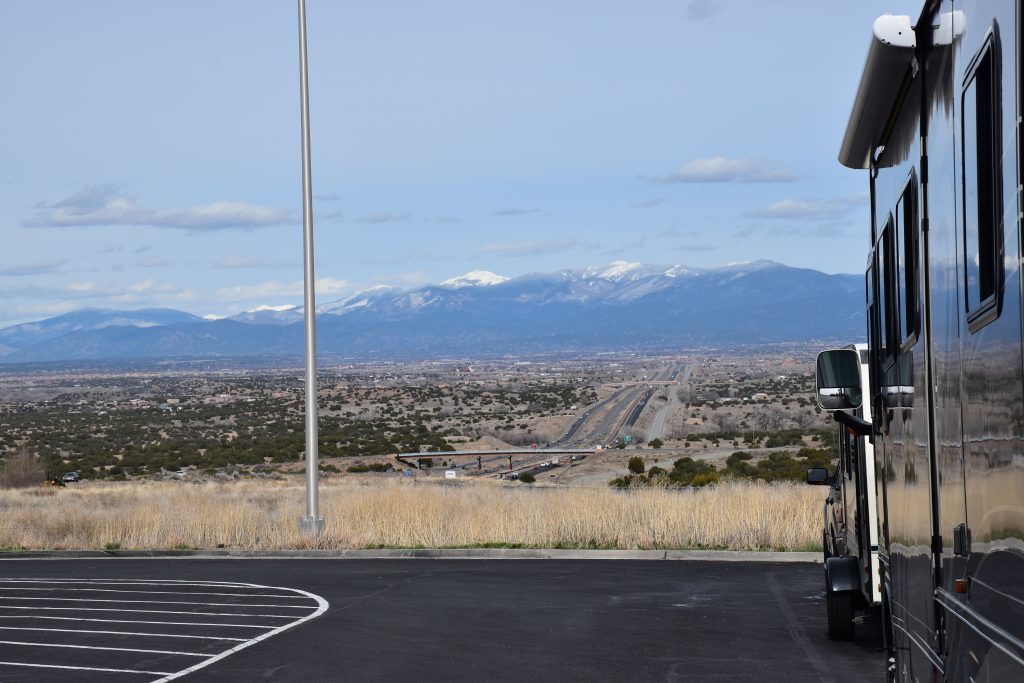 After a pleasant night at a roadside rest area just south of Santa Fe, we continued north, without a visit to the beautiful, but closed, downtown shops and art galleries.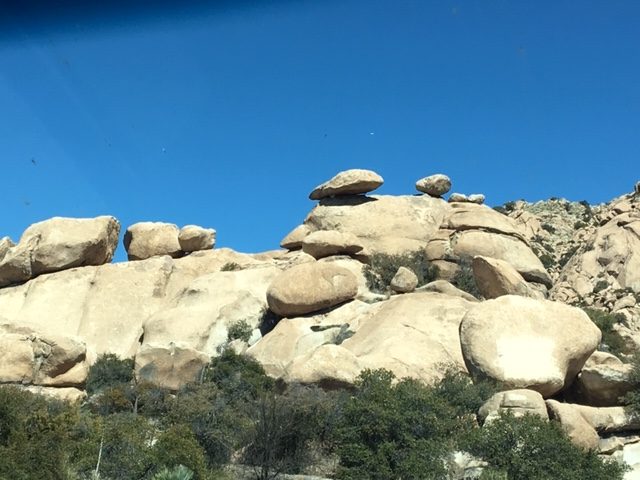 In our last post we mentioned our intention to continue north to Denver, before turning east. For some reason our radiator appeared to be guzzling antifreeze (we couldn't see a leak anywhere) and our engine temp. gauge kept rising into the warning zone. We had been enjoying the scenery on the eastern slopes of the Rocky Mountains (in that area known as the Sangre De Cristo Mountains) but decided to turn toward the prairies when we got to Trinidad, Colorado. Our engine temp. returned to normal on the flatland, which was a relief!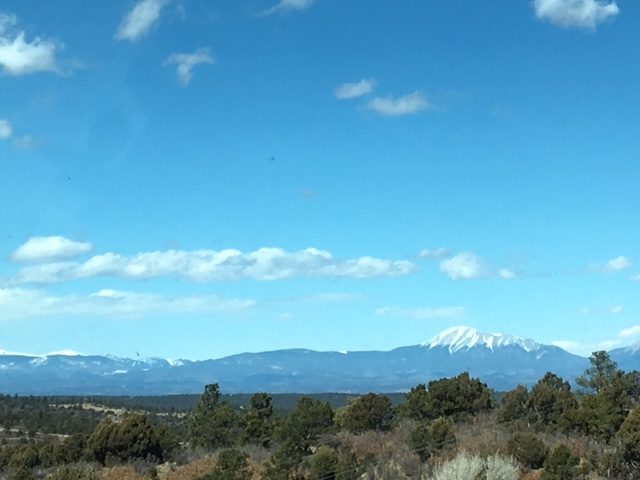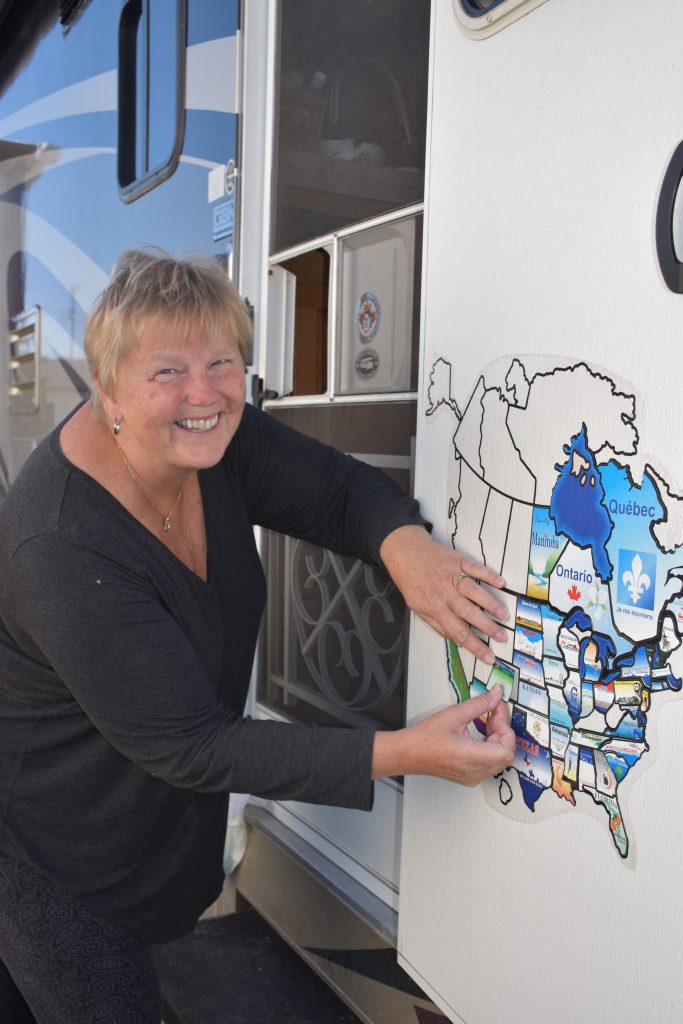 We were soon on the kind of flatland familiar to prairie dwellers, and decided to stop for the night in a turn-off beside grain elevators in the small town of Pritchett, Colorado. It seemed like a quiet town that has seen better days, with most buildings on their short main street boarded up or abandoned.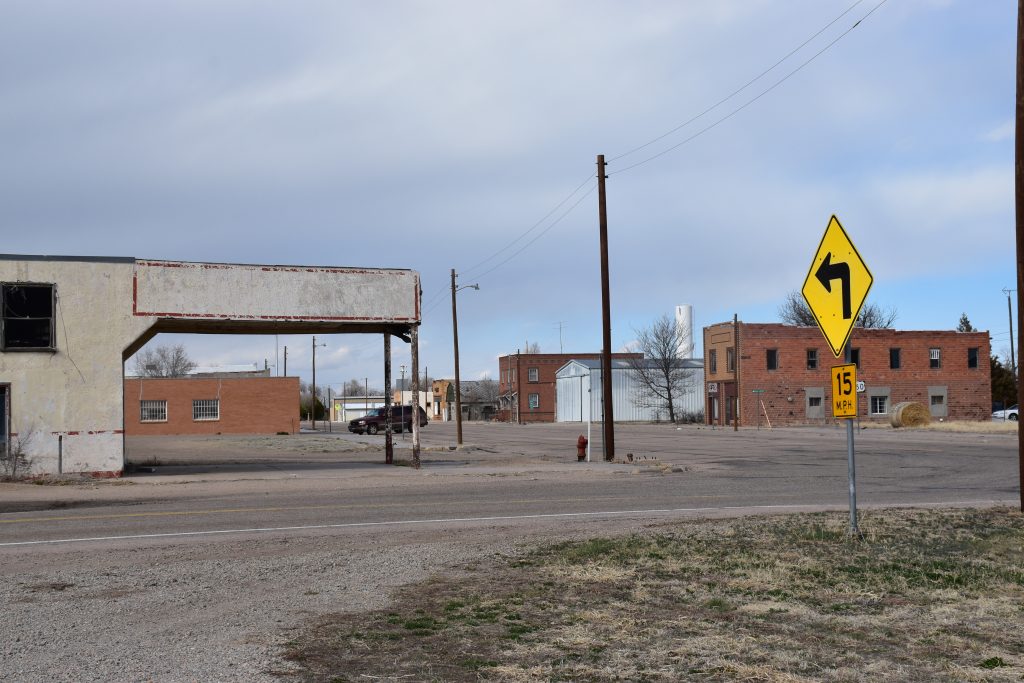 A couple of pick-up trucks passed by in the evening, but no one approached, which seemed fine due to the rules around social distancing. Betty & I had been on the desolate roads since early morning, and chose to turn in around 8:45 pm. When a gunshot was heard nearby at 9:00 pm, we leapt out of bed, deciding it was time to find another resting stop for the night!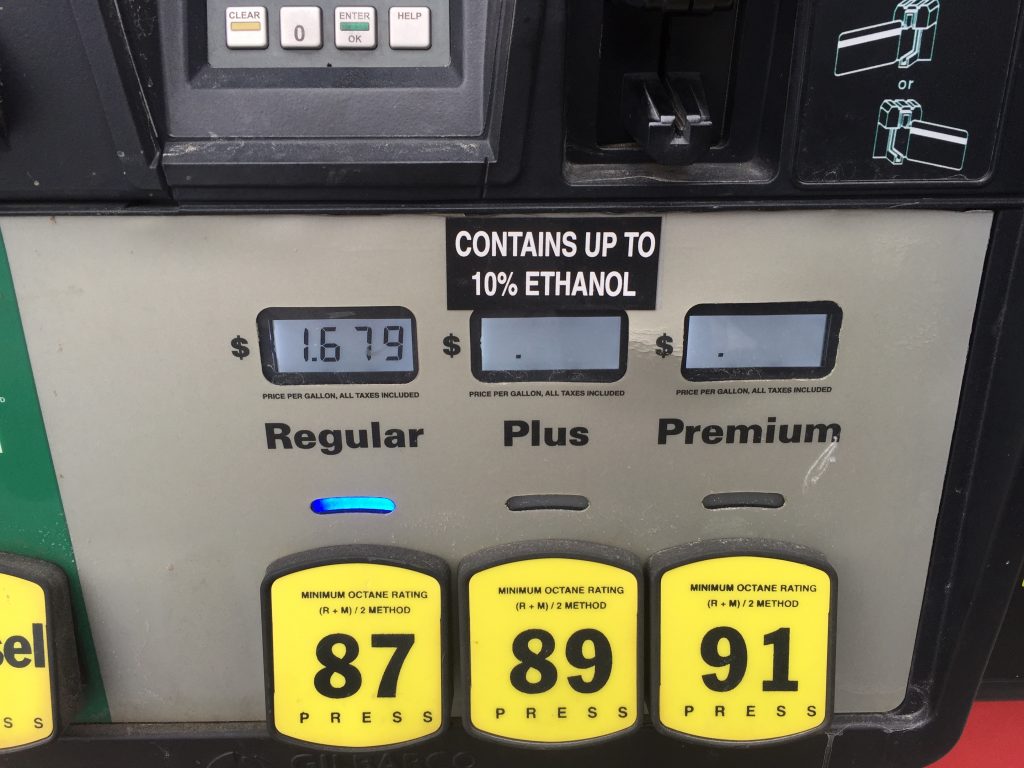 We had our slides in and motor running in record time, and were on the road again before finding out whether we had heard a warning shot, or just a farmer shooting a nuisance skunk. Lol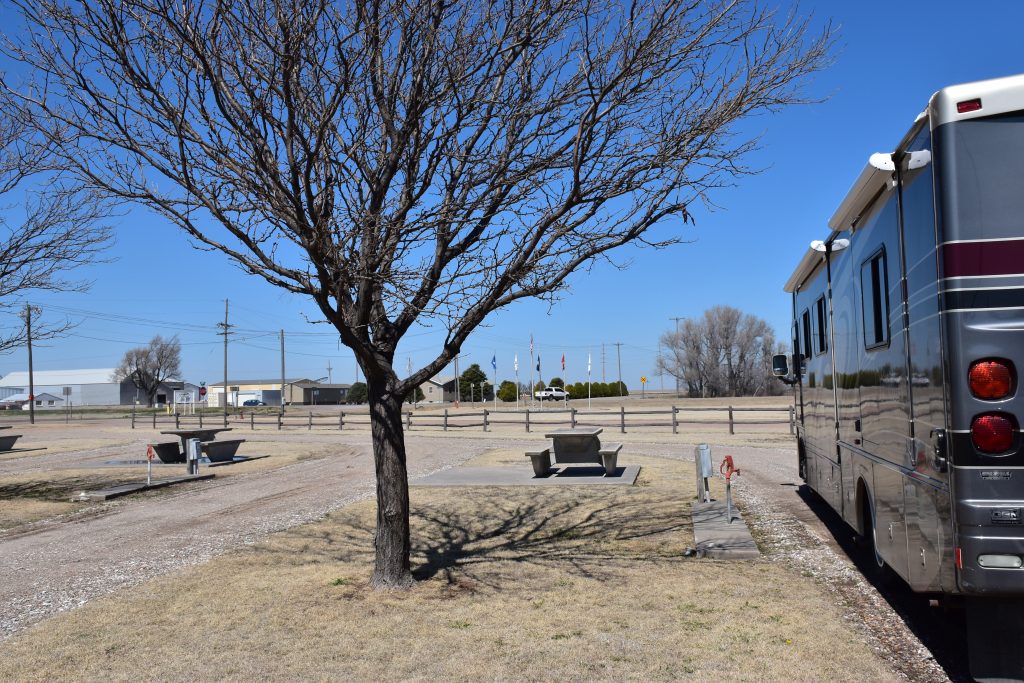 Springfield, Colorado is only 16 miles east of Pritchett, and contains a truck stop that was full of 18 wheelers when we arrived. We nestled in for a peaceful sleep before heading to the famous Dodge City, Kansas the next morning.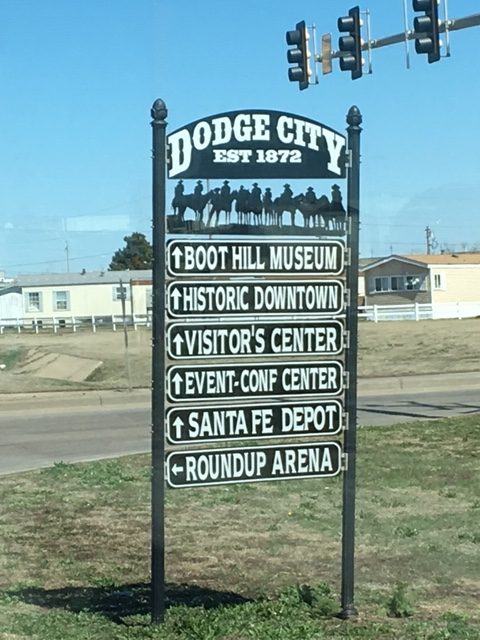 Betty has always wanted to tell me "Get outa Dodge!" so that is what we did after topping up with cheap gas at the local Flying J.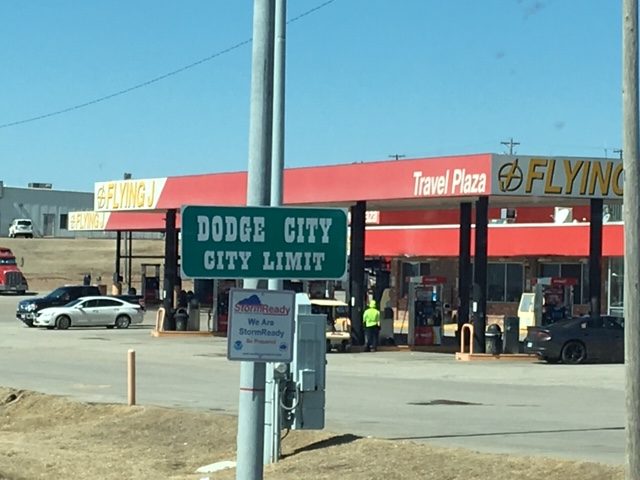 Later that day, we turned north at Salina, Kansas, onto a road often travelled in our trips to the south. A northbound rest area near Salina was our overnight campsite.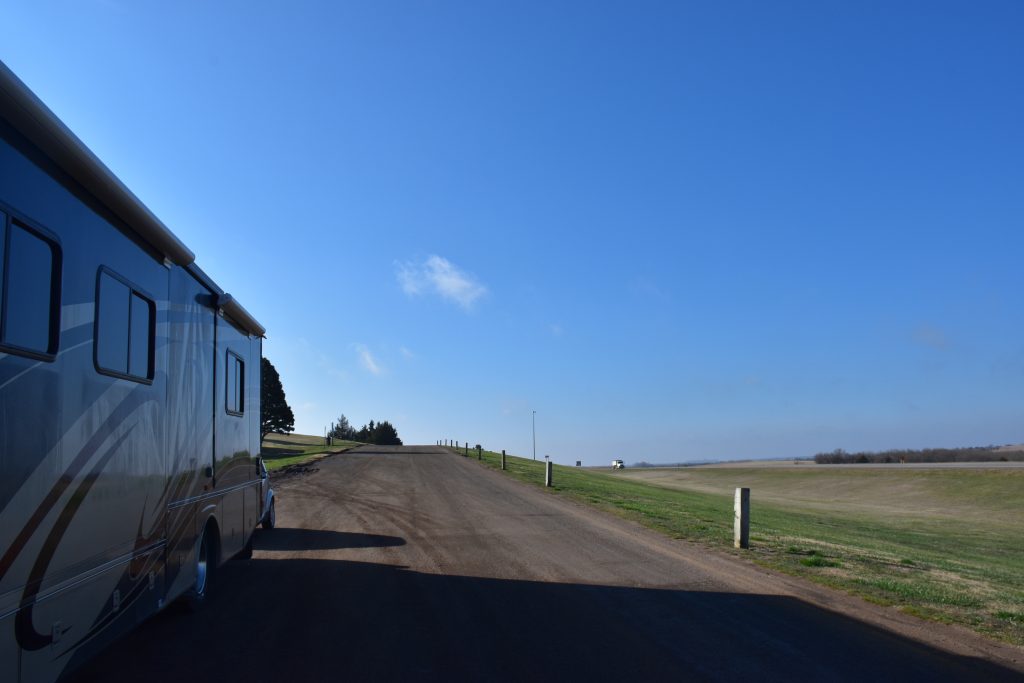 From there we continued north and then east to Pine Grove RV Park, between Lincoln & Omaha, Nebraska. Paying $44. for a full-service site was the most we had spent on accommodation for a long time (Our total campground cost from Yuma to Winnipeg was less than $100.) but it gave us a last opportunity to dump & top up before returning to Canada.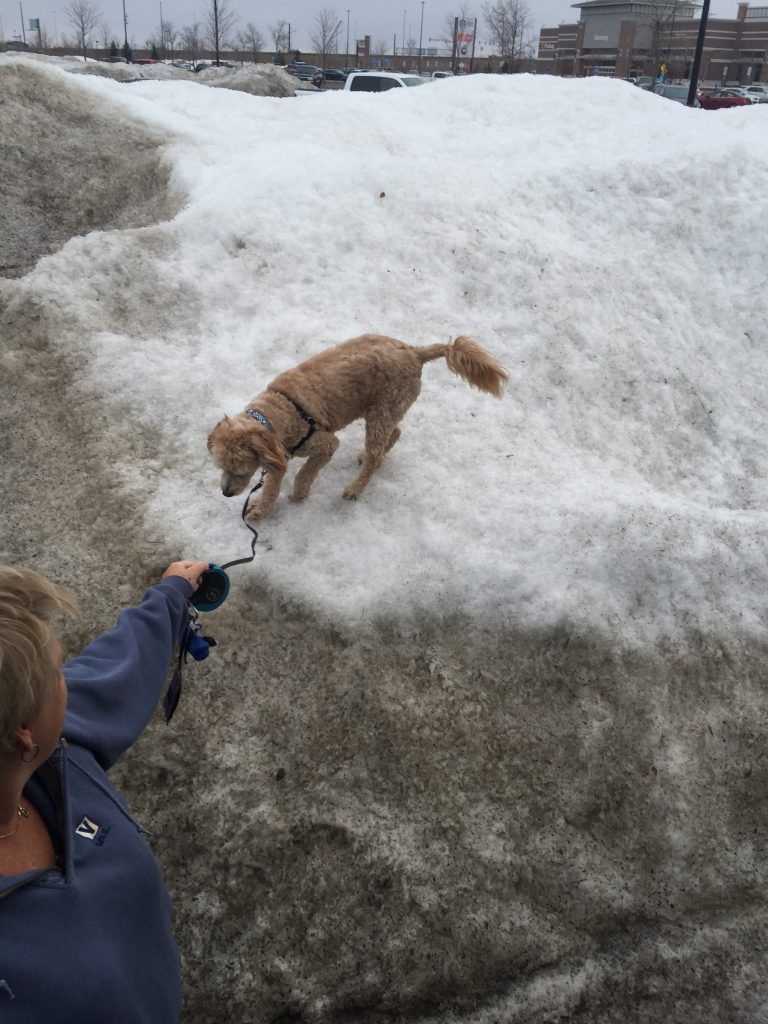 Our final night in the U.S. was in Fargo's Walmart parking lot, where we were shocked to see high rows of snow piled across the lot.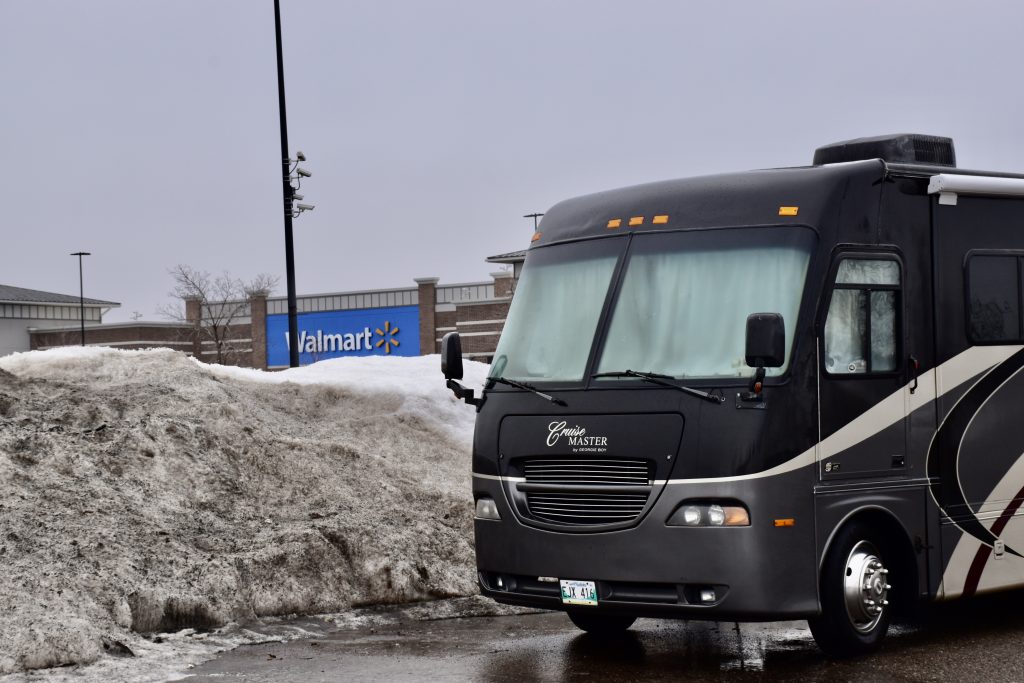 Just after noon on Friday, we approached the normally busy border crossing by Emerson, Manitoba. Only one lane was open, and only two cars preceded us, with no-one behind. Nearly all information exchanged was coronavirus related, and after receiving our 14 day quarantine instructions, we were on our way to Winnipeg.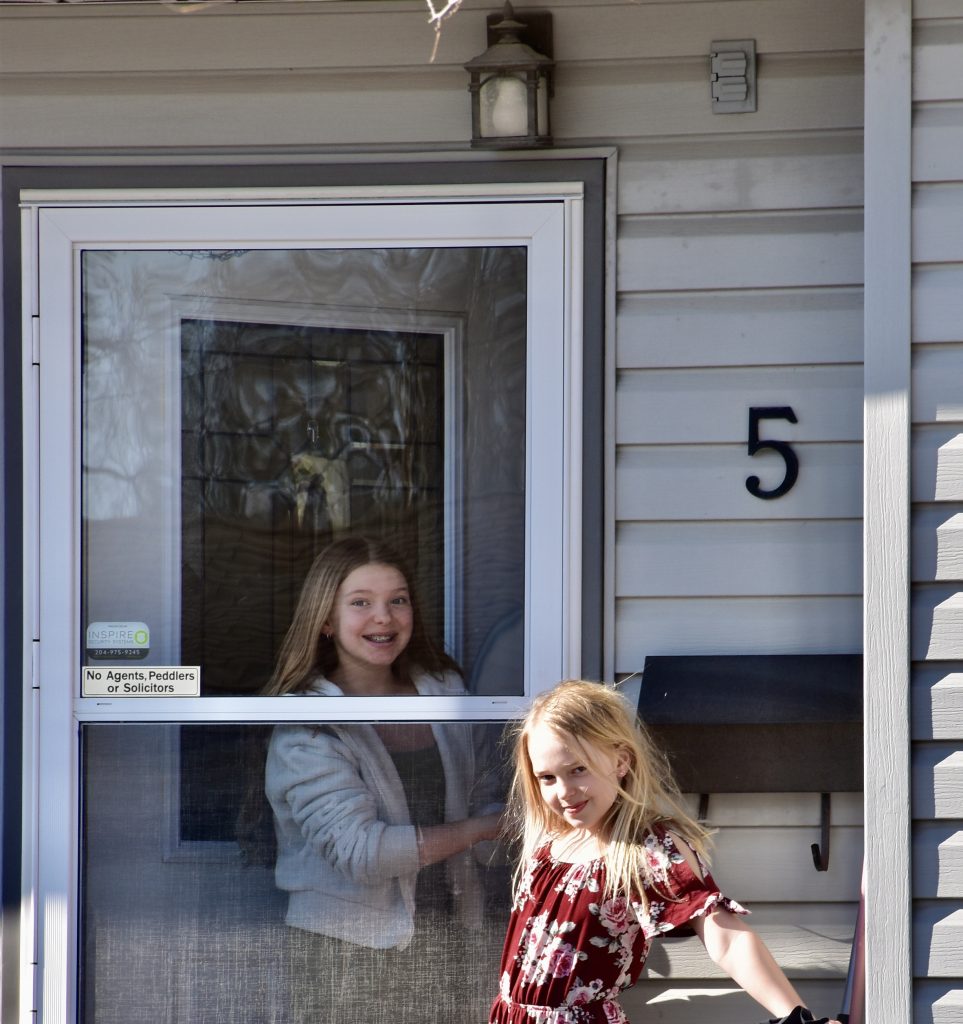 It's been quite the run, and while we're not quite running on empty, we are somewhat exhausted by the stress of dealing with the unexpected risks related to COVID-19. While hotels, motels and restaurants were closed, shopping malls exhibited huge vacant parking lots, and almost only commercial trucks shared the roads with us, we were still able to get gas along the way, always donning disposable gloves and paying at the pump. We didn't stop for groceries since leaving Yuma, and were happy our daughter & her husband, Kevin, could drop emergency supplies at our door.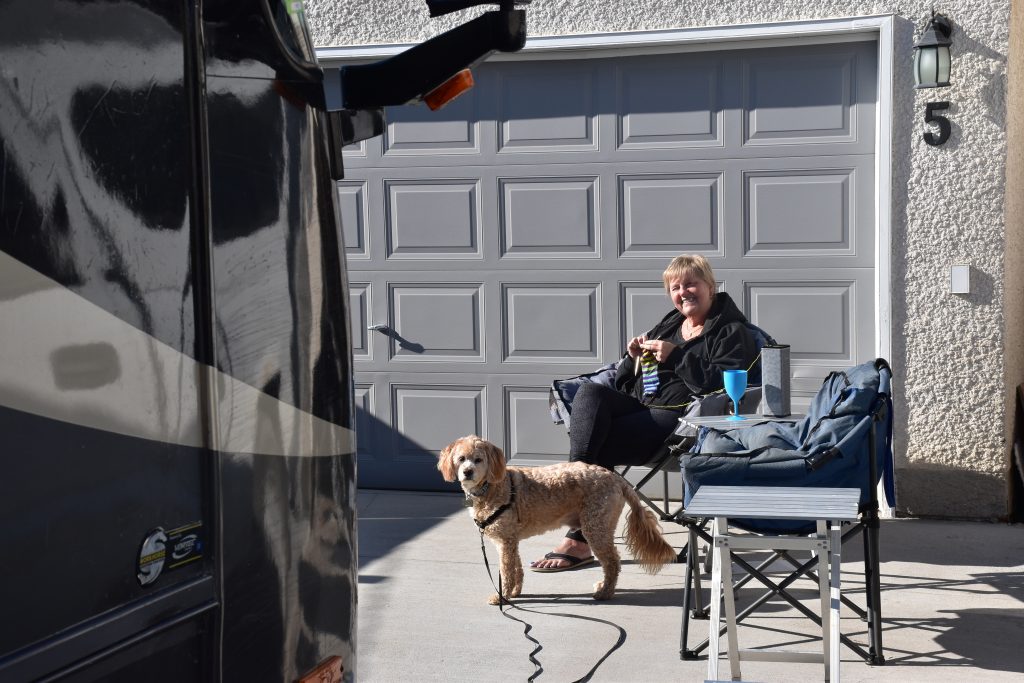 Yes, it was an unexpected long and winding road, but it's great to be back with our family, even though we can only visit them through glass and share virtual hugs for the next two weeks. Hope you can stay safe and healthy through this strange time, wherever the roads take you.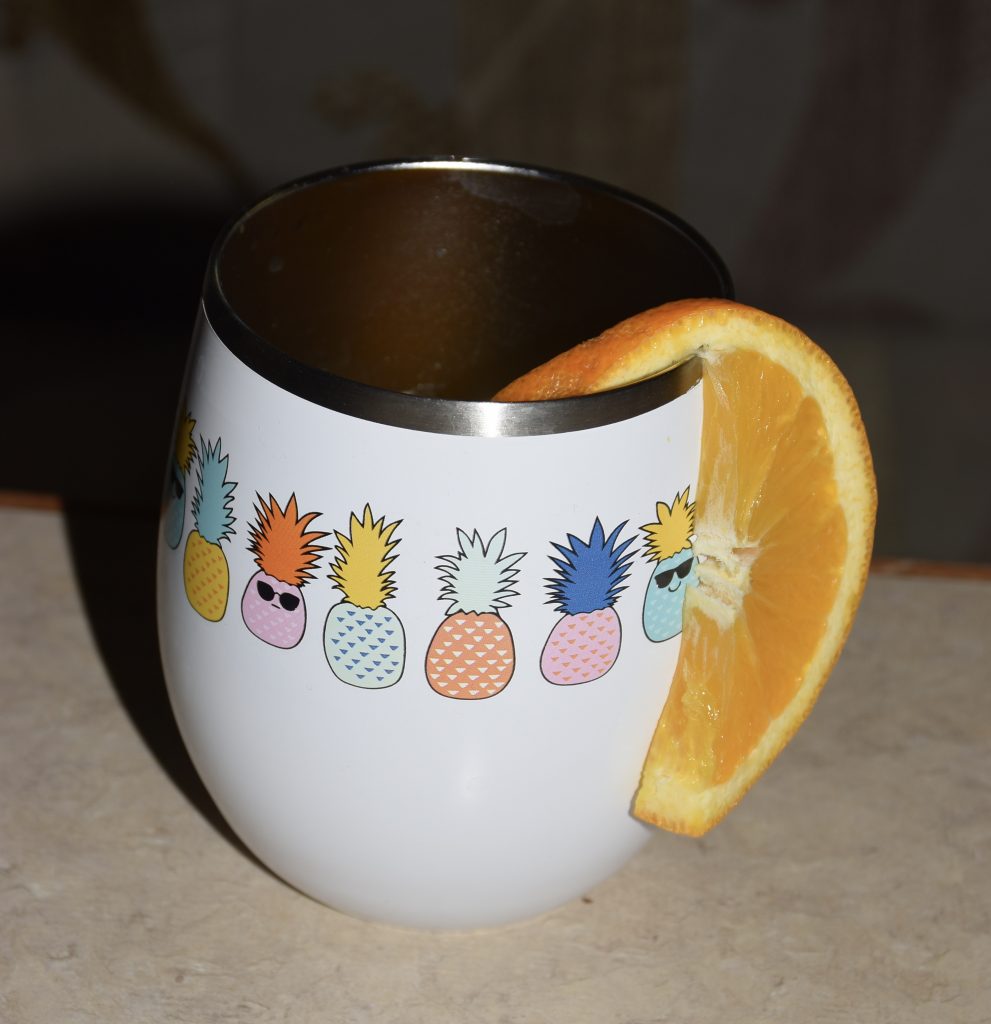 Cheers!