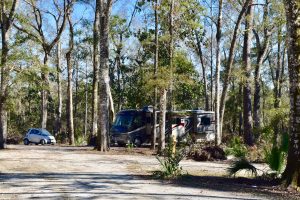 Cheap, cheap. Is that the sound of birds in the tall trees around us? Or is that just us not opening our wallets so much? LOL.  In comparison to Texas and Arizona, Betty & I have learned that Florida can be an expensive state for RVers. We have already committed to a week near Disney World with our kids & grandkids at $69./night, and have a reservation at a Key West campground for double that rate. But otherwise, will we be able to do Florida on a reasonably cheap budget, or will we blow out the bank account?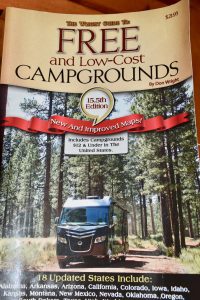 Before we left Winnipeg, we purchased on-line "The Wright Guide To Free and Low-Cost Campgrounds"  in the United States, and have been using it, the "Free camping Near Me" website, Harvest Hosts, and Boondockers Welcome, to help reduce our accommodation expenses.
While BLM land is popular and available in New Mexico & Arizona, Florida has a number of other low-cost options. In addition to state parks, which are plentiful but often just plain full this time of year, Florida has Wildlife Management Areas, National Forests, and State Forests which often allow camping. This week we have been exploring the forests, and hope that our luck continues in finding great, cheap, accessible campsites.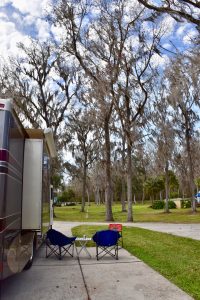 After Tate's Hell State Forest ($9.17/night), we went to Ocala North RV Park($38.70/night) because it was on our route, available, and we needed to dump and do laundry. It turned out to be a very well-kept full-service private park with level, cement pads, and included cable tv and excellent wi-fi. Bonus! It was also located in Reddick, Florida – a bastardization of our last name that we see sometimes when people have trouble with …och (the proper Scottish spelling. LOL.)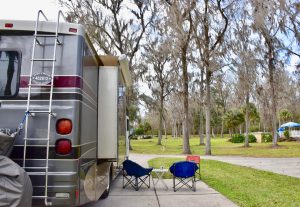 The wi-fi allowed us to research other inexpensive (Betty doesn't want to give the impression we're cheap. Lol) camping options, and ended up at the Big Bass Campground (site #13) in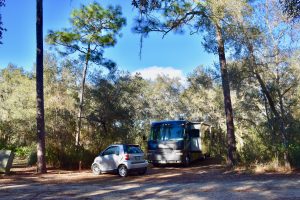 Ocala National Forest ($10./night). We weren't sure if the campground would be open, because of the federal government shut-down, but there was no gate across, and we used an honour system box to deposit our camping fee. While the site itself didn't have services, there was potable water nearby, as well as bathrooms, garbage bins, and a dump station.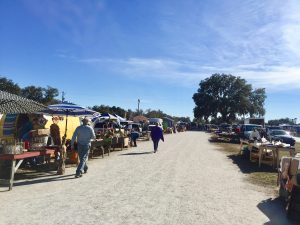 Before and after Ocala National Forest we stopped at two famous Florida flea markets. One was called "The Market of Marion" at Belleview, Fl., and the other "Swap O Rama" atWebster, Fl.. On the thrifty theme, I was there in search of a new set of golf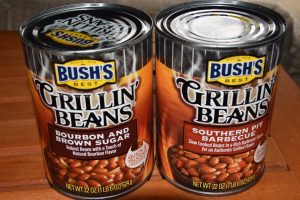 clubs, as I had previously seen cheap, cheap clubs at Belleview on an earlier visit with Betty's brother, Jack. Unfortunately, I had no luck this time, but we did pick up some fresh fruit and vegies while there.  BTW, on the food topic, while we still have been bbq-ing rib eye with prosciutto-wrapped asparagus from time to time, we also have been slumming it sometimes with a variety of Bush's Beans on toast…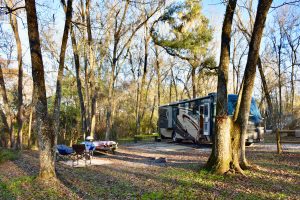 We are now in Cypress Glen Campground Withlacoochee State Forest ($13.45/night) site #30, which includes 50 amp service and water at the site. Many of the campsites in this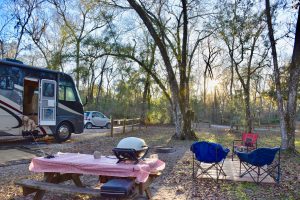 area are sloped side to side, or front to back, so would be hard to level our motorhome. Fortunately, site #30 is reasonably flat, with boards needed under only 2 wheels. We are looking forward to visiting the Gulf coast from here, but also having a quiet stay in this tranquil forest, with only the chirp of birds ringing in our ears.  Cheap, cheap!
Cheers!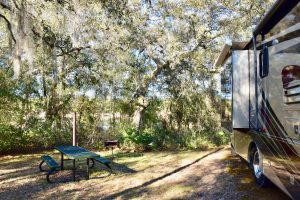 TREES
Joyce Kilmer, 1886 – 1918
I think that I shall never see   
A poem lovely as a tree.   
   
A tree whose hungry mouth is prest   
Against the sweet earth's flowing breast;   
   
A tree that looks at God all day,
And lifts her leafy arms to pray;   
   
A tree that may in summer wear   
A nest of robins in her hair;   
   
Upon whose bosom snow has lain;   
Who intimately lives with rain. 
   
Poems are made by fools like me,   
But only God can make a tree.