As Betty and I prepare to travel to the west coast of Canada for winter, it is important that we check that "all systems are go", as they say at Cape Canaveral.
Newer, often high- end motorhomes have integrated touch pads that provide detailing information on all monitored systems. On a single IPad-type device, one can turn any and all coach lights on and off; raise and lower blinds; lock and unlock compartments; check engine and battery status; determine electrical consumption; and know whether or not holding tanks are full or empty.  Our old Boy didn't come with that level of sophistication, so we have had to improvise with aftermarket additions. This post describes what we have.  (In most cases I am listing the brand of monitor that we are using, without any compensation from the manufacturer for doing so. More detailed info can be obtained on-line from the manufacturer, or by contacting me. If you are a manufacturer whose product is listed here, and you want to send me money – feel free! lol)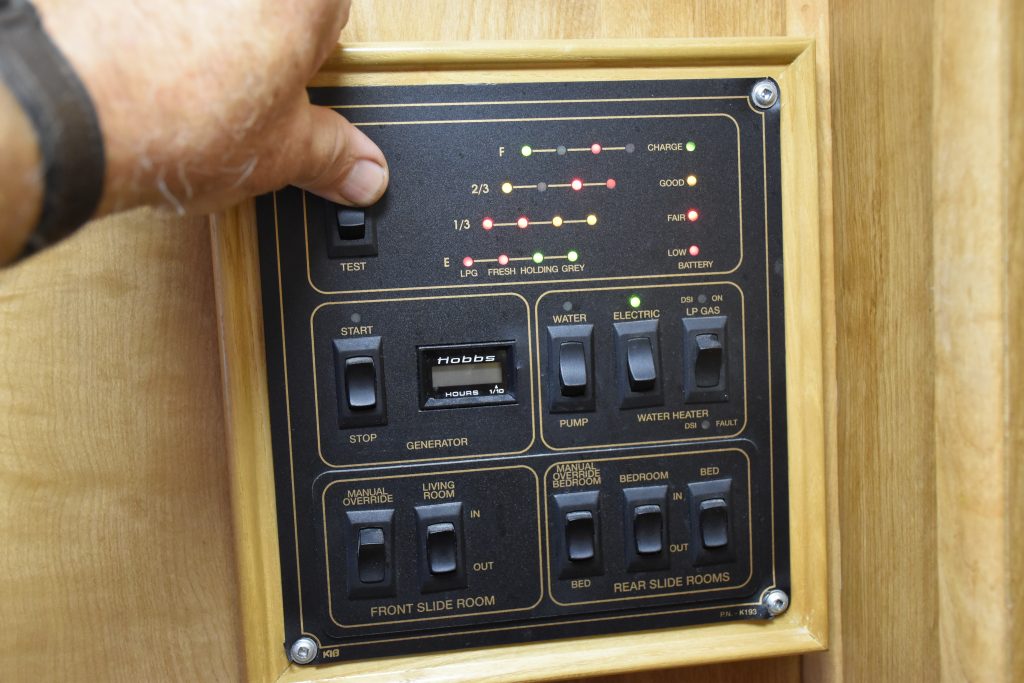 The monitoring panel that came with our CruiseMaster provides some basic information about battery and propane levels. It allows us to turn the water pump off & on; bring the slide-outs in or out; use electricity or propane for the water heater; turn the generator on and off, monitoring hours of use; and assess holding tank levels. This last function will be addressed later in the post.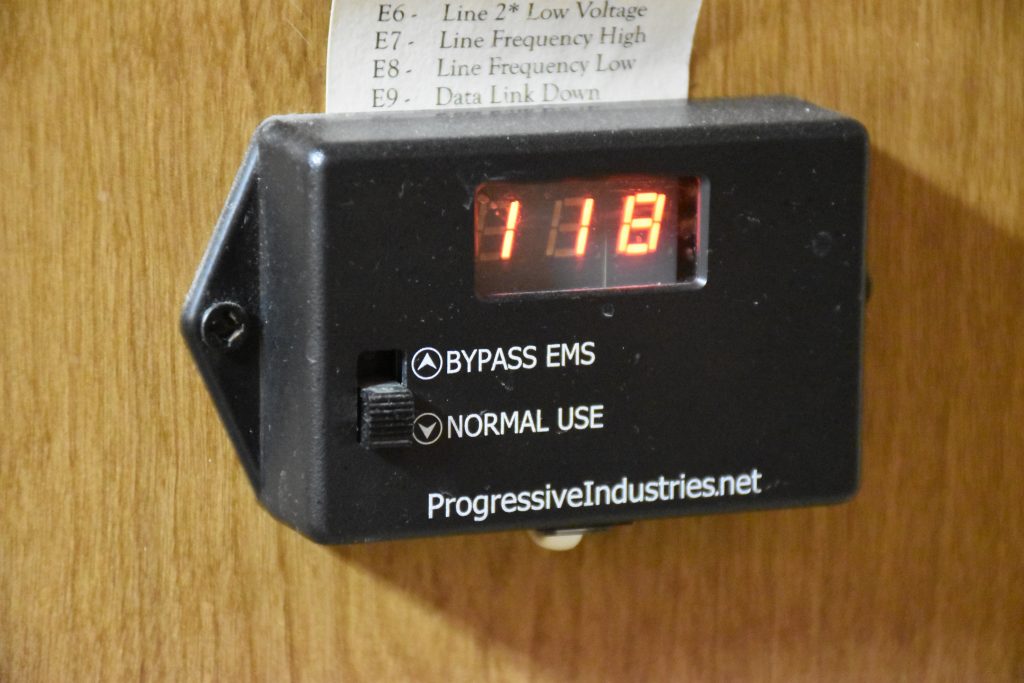 When we decided to go full-timing, Betty & I determined that a number of other monitors would be helpful, if not essential.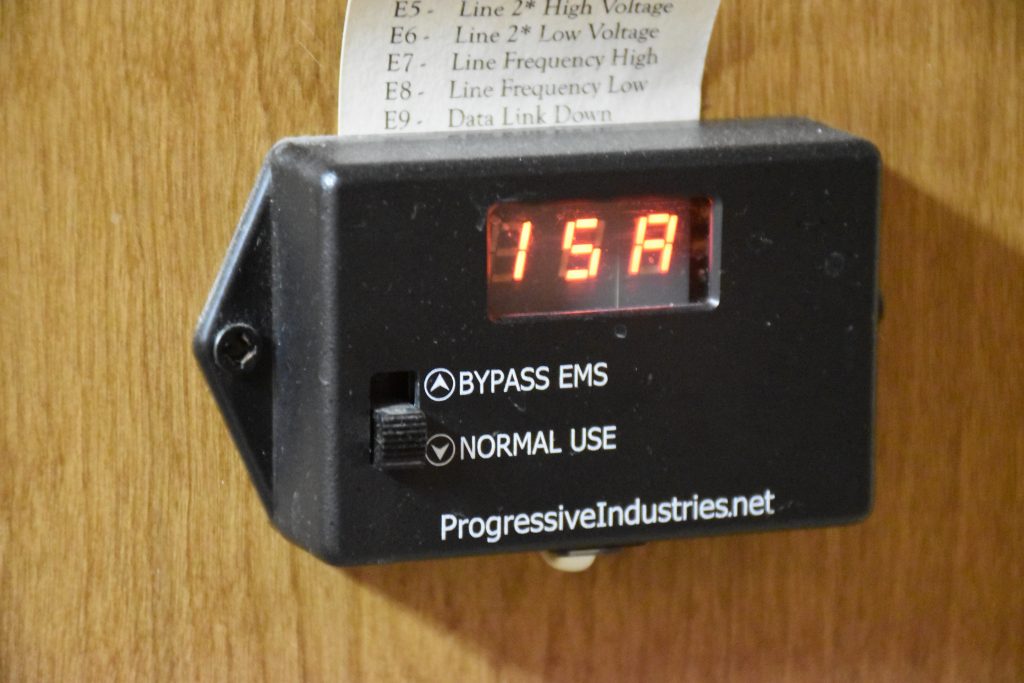 One of the first was the addition of a Progressive Industries 50 amp surge protector. These are available as a plug-in at the campground electrical post, or as a hard-wired unit in the coach. We chose the latter, along with an interior monitor to let us know the condition of electricity coming into, and being used in our motorhome. This information is very valuable, as we have saved our appliances on at least two occasions where "shore power" was unreliable. We have also read reports from a number of RVers who have either had all their appliances fried in a lightning strike at their campground, or protected by a similar surge protector. I don't have a lot of knowledge about electricity, but am happy with the peace-of-mind that this device provides.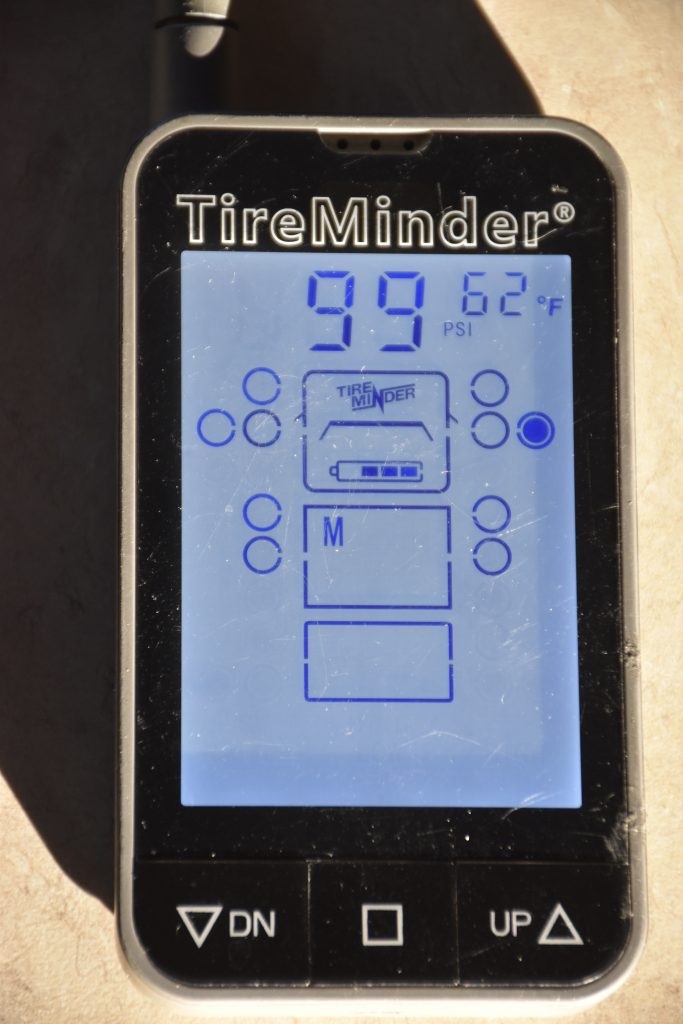 Another monitor that we had installed falls into the category of "must have" for me. Our motorhome and towed car roll down the road on wheels, and it is essential that they remain in the preferred round shape. We added a TireMinder tire monitoring system which tells us the temperature and tire pressure of each of our motorhome and Smart car tires. We are alerted if there is a slow leak or blow-out (something you may or may not realize when going down the road in a house on wheels). The installation of this monitor at Camping World was a nightmare (recorded in a post April 17/18), and the system didn't help last November on our trip south through Arkansas (Nov.9/19 post), but for the most part it is essential to know where we stand, or how we roll…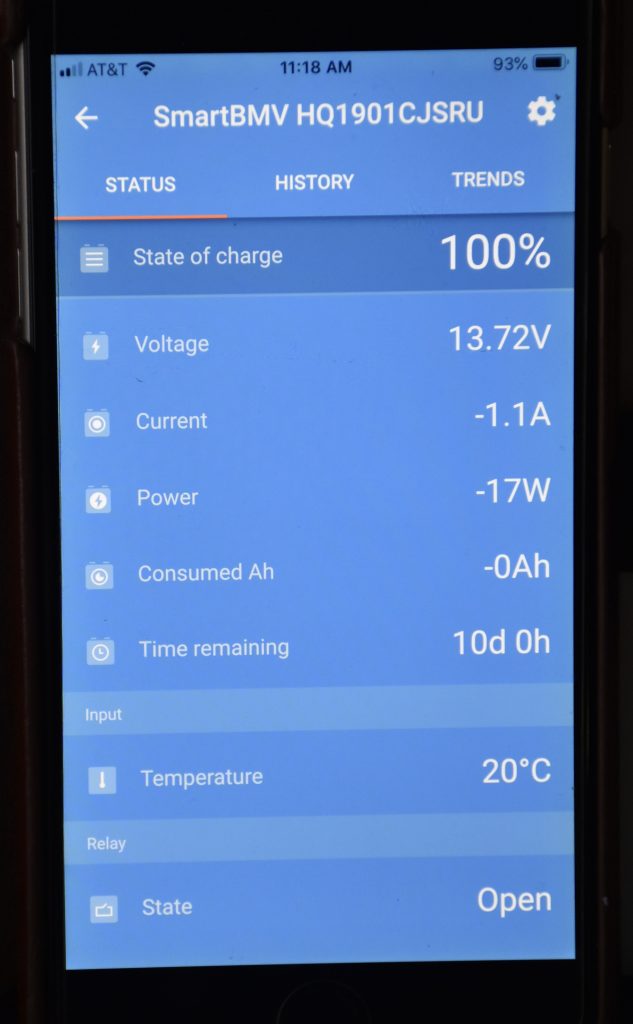 One of my favourite toys is a monitor from Victron Energy. It provides more information than one would ever want to know about the condition of our lithium batteries, installed and pictured in a Nov. 23/19 post from Texarkana, Texas. While Tom installed a wall monitor in our coach, I find myself always using the Bluetooth connection to check battery temperatures, state of charge, voltage, current, power, consumed amp hours, and time remaining before the batteries shut down, among other functions. It also logs status, history and trends, indicating when the solar panels are adding power, and when appliances are depleting power. I'm not much of a numbers guy, but love to check where we stand on power consumption when we are out in the boonies.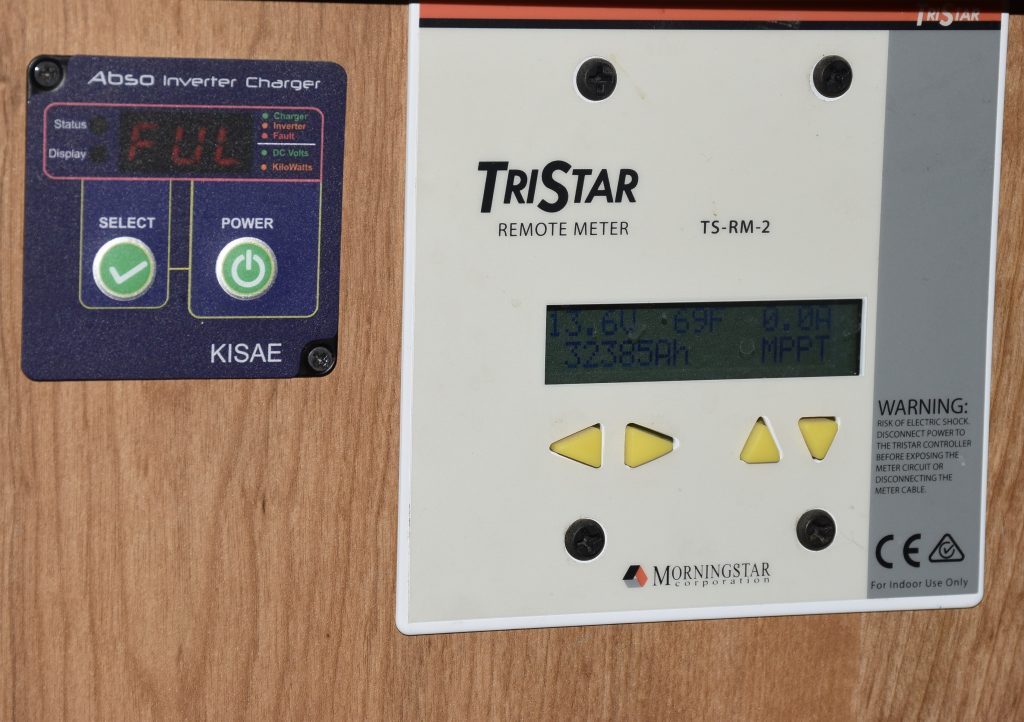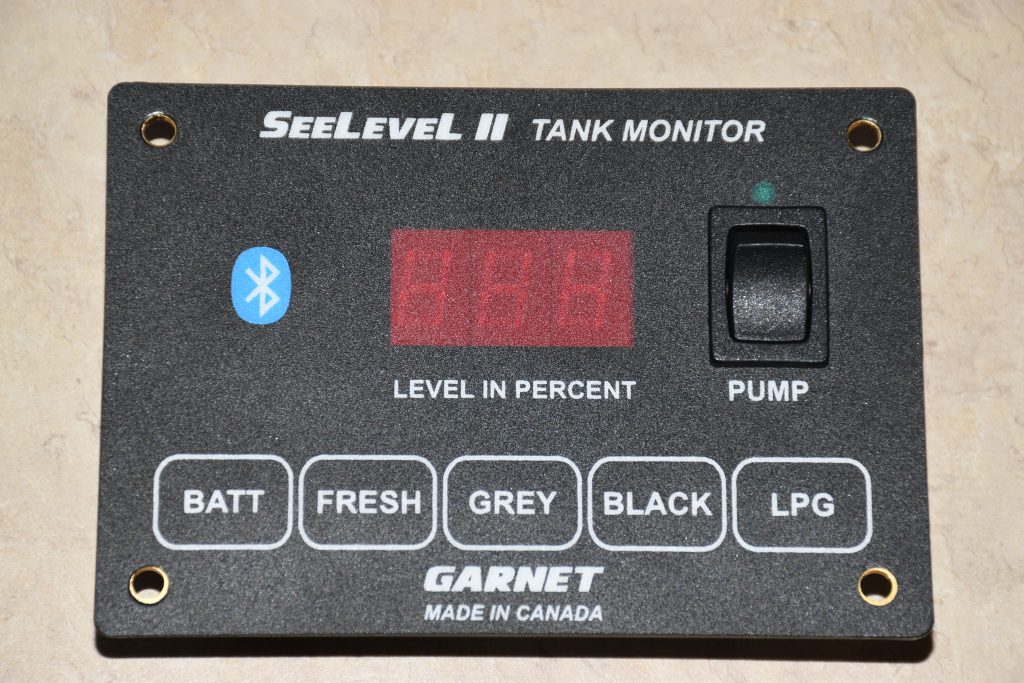 The final monitor for this post is our Garnet Industries rv gauge, recently installed by Stylings RV in Lockport, Manitoba. As mentioned at the beginning of this post, our CruiseMaster came with a tank monitor that has a series of lights showing tank empty, 1/3, 2/3, and full. Unfortunately, as with many RVs, the system uses probes mounted inside each of the tanks. Over time, these probes get coated with gunk and no longer provide an accurate reading. According to this monitor, our black tank has been full for the last 10 years. Yikes and peeyuuu! Lol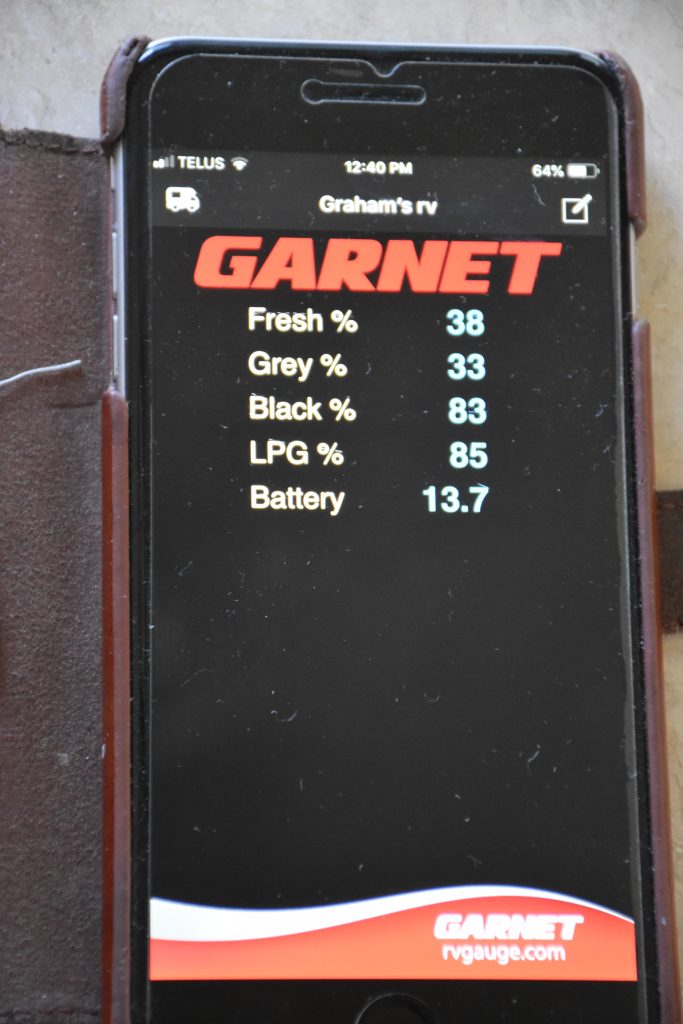 The SeeLevel tank monitoring system, from Alberta's Garnet Industries, has senders /sensors that are mounted to the outside of the tanks, so they can never become fouled. Garnet provides a number of installation options, but we chose to have a main monitor, which includes a water pump switch, added to our plumbing bay. This monitor provides accurate readings as a percentage from 0 to 100 for each of the fresh, grey, black, and propane (lpg) tanks, in addition to a state of battery charge. The neat option we chose is a Bluetooth connection, allowing me to check our tank levels on my phone from anywhere in our coach. How fun is that! Lol
Well, there are other monitoring systems available out there, and more information about each of those I have listed, but this post is long enough for now. We are wired up to track our old Boy's heartbeat, blood flow, and GI tract, so for now "all systems are go!". Let's hit the road!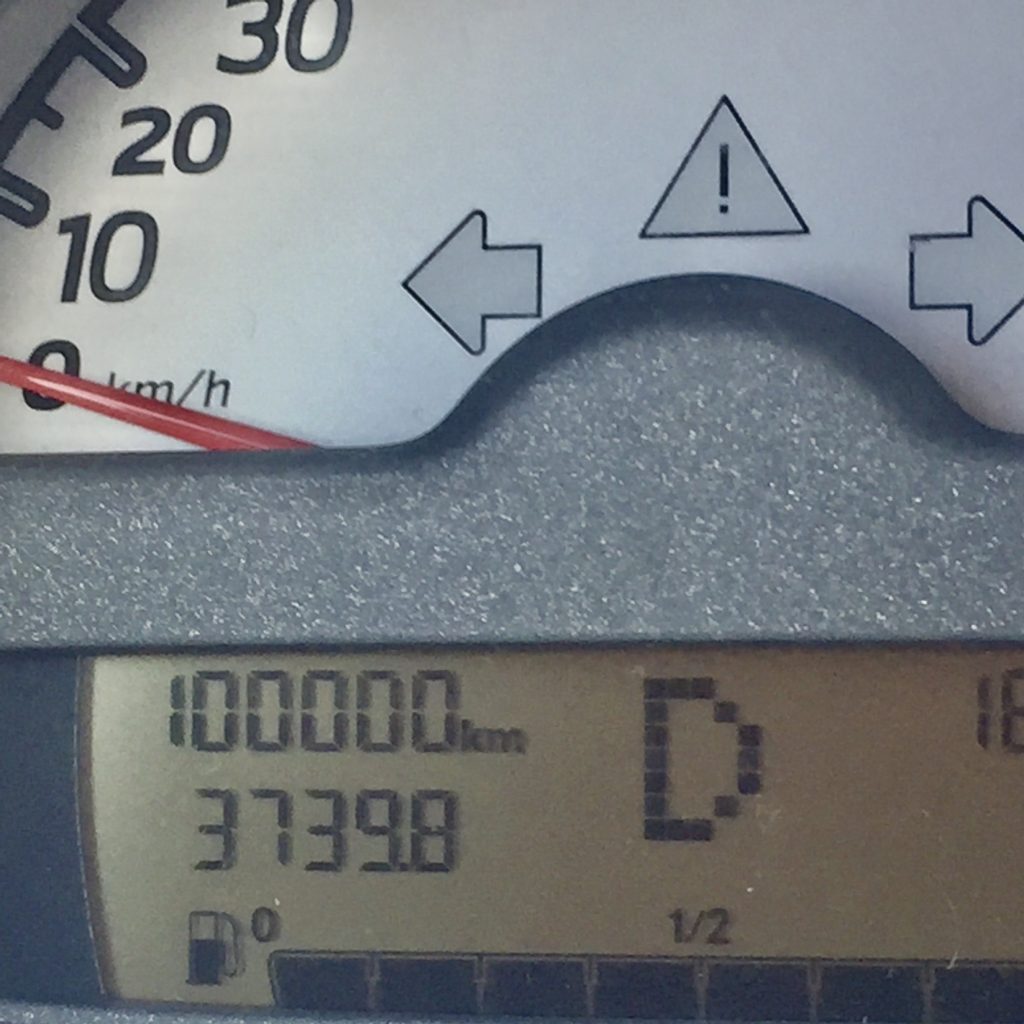 Here's hoping that all your systems are functioning well and that you can monitor progress goin' down the road!
Cheers!
P.S.: A man and his toys! – Betty 😉