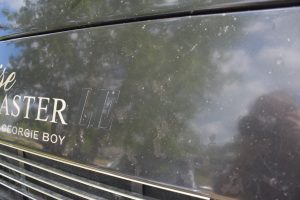 A few years ago, Betty & I drove through a swarm of lovebugs on Mustang Island, near Corpus Christi, Texas. A copious crowd of copulating creatures covered the front of our coach, splattering our windshield and making it difficult to see where we were going.  As soon as it was safe to do so, I pulled over and squeegeed the front of our motorhome.  Under other circumstances, the bugs would be gone then, or at the next pressure-washing truck wash. However, these acidic double-headed flies ate through the Diamond Shield coating on the front of our rig, leaving pock marks that were impossible to remove. Yuck!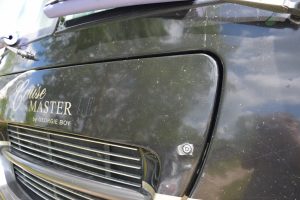 On return to Winnipeg I stopped by an autobody shop with experience painting motorhomes, and received a quote of $2,000. to remove the rascally creatures' residue. While I like to keep the old Boy looking reasonably good, I could think of many other things that 2 grand could go for. So until now we've been living with our front face's acne.
This month I picked up 4 bottles of touch-up paint, to replace the last batch that had succumbed to a cold spell, and set out to cover all the nicks and scratches acquired over the past couple of years of almost constant travel. I gave our home a good wash & wax, and stood back to admire it.  Well, what about that front cap?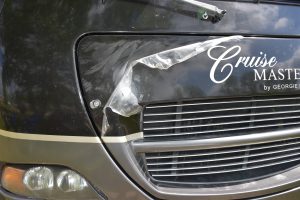 I went on-line and watched a number of YouTube videos on removing Diamond Shield coatings. None suggested it was an easy job. And of course the most promising product – Ugly Shield Remover – does not appear to be available in Canada. The recommended approach was to remove very small sections at a time, in order to avoid peeling off paint underneath. I didn't follow the recommendations…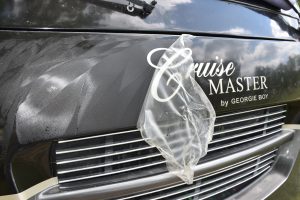 Beginning with an inconspicuous edge, I started to pull the plastic coating, and was pleased to see how well it came off, leaving glue, but an otherwise unblemished surface, behind. I kept pulling and within 2 hours had the whole pitted Diamond Shield coating removed from the front hood – all paint still intact. Yeah!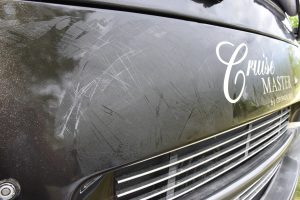 Ok. I celebrated a little too soon… While the plastic coating was relatively easy to remove, the glue underneath was another story! I used everything in my limited arsenal, with success coming only after about four days of labour. Even though I had my iTunes playlists attempting to keep me in the groove, I found the job to be extremely boring, and had to quit each day after hours of scrubbing. I used Goo Gone, WD 40, Dawn detergent, plastic scrapers, and Norwex cloths, which appeared to work best. (shout out to our daughter Valerie who sells the cloths.)  One on-line posting suggested gasoline would do the job, and I almost resorted to that at times. (Burn baby burn. Lol) In frustration, I also fantasized about finding which of our kids has my belt sander, and taking that to the obstinate covering. (Betty held me back from that extreme inclination.)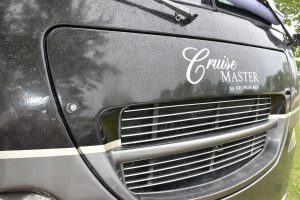 Well, it's done now. Or at least one central contaminated section. There's no chance that I'll commit the time to removing the rest of the coating, but I can at least stand back and admire the fresh, unadulterated paint on our front hood. BTW, we're also never going back to Corpus Christi during lovebug season again! lol
Happy Canada Day & Cheers!