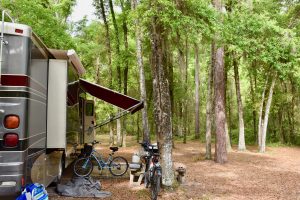 Last week, Betty & I joined 700 other RVers at Spirit of the Suwannee Music Park in Live Oak Florida for RVillage's Rally 2.0.  We had previously attended a small Good Sam rally in our home province of Manitoba, and a regional FMCA rally near Houston, Texas, and very much enjoyed both events. Being relatively new to the RVillage network, and never having attended a large RV gathering, we were somewhat apprehensive as we made the short trip westward from our last campsite at St. Augustine, Florida. Long story short: We had a great time!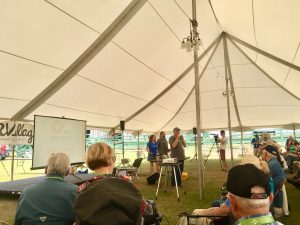 As a fairly private person, I have posted almost nothing on Facebook, Instagram, Twitter, or any of the other social networks (if that is what they are called…).  So prior to the rally, our RVillage profile provided a bare minimum of information about Betty & me. RVillage is a relatively new social network, conceived just a few years ago by Curtis Coleman, founder and current CEO. At a session called "RVillage for Beginners",  Curtis assuaged our privacy concerns and reviewed a whole range of filters that can be turned on or off on the platform, customizing the information shared about us and the information desired from others. Bottom line, the platform is a very useful tool for connecting with, and staying connected to others who share our passion for RVing.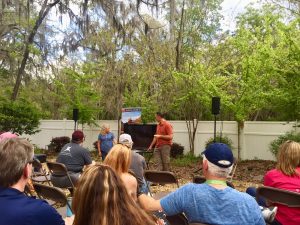 During the four day gathering, a number of workshops were held on topics of interest to RVers: from boondocking with solar; to fire safety while RVing; to managing RV weight; decluttering, downsizing and getting on the road, among many others. A couple of my favourites were "Mobile Internet Fundamentals with Technomadia" presented by Chris Dunphy and Cherie Ve Ard, well-known and well-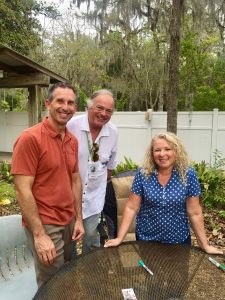 respected YouTube personalities who have a wealth of experience keeping in touch while on the road.  Also most inspiring was a presentation by Marc and Julie Bennett of RVLove, telling their story of "Living the RV Life: Your Ultimate Guide To Life On The Road"– their recently published book.
Of course, everyone we met at the rally had a unique story. The park was filled with all shapes and sizes of RVs, carrying licence plates from across the continent, and we loved to hear the adventurous travel stories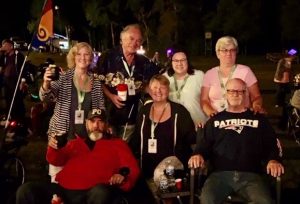 told with such a wide range of wonderful accents! I guess, in the end, that's what brought us all together and will keep us connected in future – our wanderlust to see all that we can in the time given to us to travel this earth.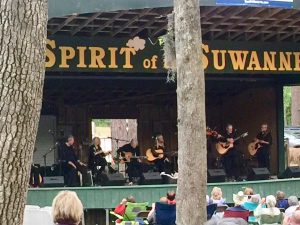 The Suwannee Music Park reminded Betty & me of the site and vibe of the annual Winnipeg Folk Festival, and it was fitting to finish our last night together listening to the harmonies of the New Christy Minstrels (with former member Curtis Coleman), and enjoying the amazing metal  "Firebird" sculptures that were set ablaze each night of the gathering.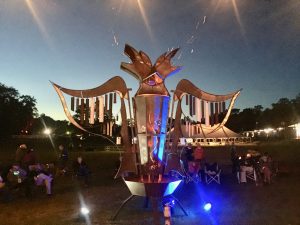 Wasn't that a party? Well yes it was! RVillage Rally 2.0 Spirit Of The Road set our spirits soaring and inspired us to continue adventures on our overlandish odyssey, but now better connected than ever!
Cheers!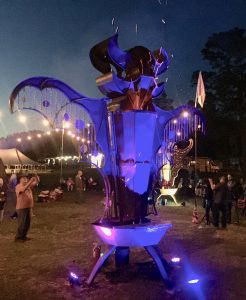 "Green, green, it's green they say
On the far side of the hill
Green, green, I'm going away
To where the grass is greener still…
Nah, there ain't nobody in this whole wide world
Gonna tell me to spend my time
I'm just a good-loving rambling man
Say, buddy, can ya spare me a dime?
Hear me crying, it's a…
Yeah, I don't care when the sun goes down
Where I lay my weary head
Green, green valley or rocky road
It's there I'm gonna make my bed
Easy, now…
To where the grass is greener still
To where the grass is greener still
To where the grass is greener still."
Songwriters: Barry Mcguire / Randy Lloyd A. Sparks
Green, Green lyrics © Sony/ATV Music Publishing LLC