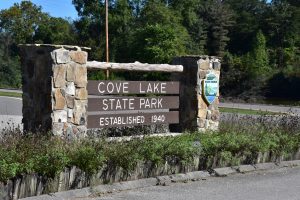 In my December 8/17 post "On The Road To Memory Lane", I highlighted 3 campgrounds that carried special childhood memories. Each has come to mind again whenever I think about "camping", although travels in our class A motorhome don't look much like holidays in our old canvas umbrella tent. LOL. Maine's "Camden Hills State Park" was visited and described again on Sept. 11/18, and North Carolina's Outer Banks became "Home Again – At Cape Hatteras National Seashore" on Oct. 8/18.  Today's post picks up the third in my trifecta, which is defined as a run on 3 grand events.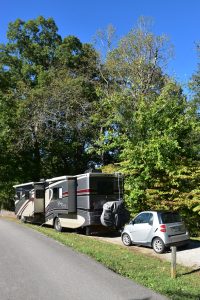 Now into mid-October, we didn't expect to need a reservation at Tennessee's Cove Lake State Park. As it turned out, the park continues to be popular late in the season, and we were lucky to find one available pull-through site for one night only. As a result, the visit wasn't long, but long enough to confirm some benchmarks: The pool and overlooking pavilion where Johnny Cash's Ring of Fire would blast on the jukebox were still there. The adjacent ranch with the horses we used to ride is still there, and the park restaurant is also still open, although it is now a bbq joint with live blues singers on the weekend.
Somehow the campsites seem to be configured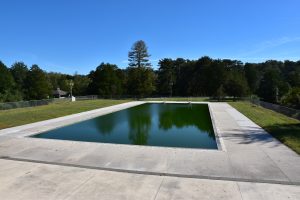 differently than I remember, but maybe that was necessary to add the water, sewer and electricity that can be found on many, if not all sites. While the "pitch & net" golf course is no longer there, and there is no record of the property previously serving as a golf course, it is still a well-manicured spot with a backdrop of low mountains behind the undulating lawns and gardens.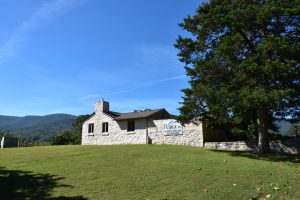 As Betty & I reach the end of our first year in our overlandish odyssey, we have now visited 24, or half of the 48 states we hoped to visit in 5 years. Plus, in addition to our home province, we have toured 5 other provinces during this adventure.  With this trifecta behind us, now maybe we can take it easy for the next while. Only time and health will tell…
Cheers!