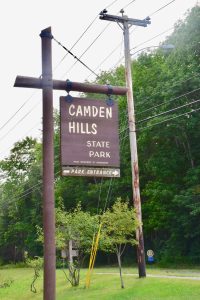 Camden Hills State Park – the name alone carries something of a mythical quality for me. My first camping experience was here 60 years ago. I learned to swim in the nearby fresh water of Lake Megunticook. I caught my first fish (flounder) in Camden harbor. My first hike – "mountain climbing" – was to Maiden's Leap (now known as Maiden Cliff), at the top of Mt. Megunticook.  So many memorable firsts!
Now on our overlandish odyssey, Betty & I are here again, reliving some of our own memories from prior visits during our 44 years of marriage. As mentioned in one of our first blog posts, we came to Camden over 40 years ago with our best friends, Ken and Wendy, in their big old Cadillac Fleetwood towing a small tent trailer from Toronto. The weather at the time wasn't the greatest, but we thoroughly enjoyed each other's company as we sailed the sea on a brief windjammer cruise; tried to order the right wine in an upscale restaurant, and engaged in all the other expected touristy things.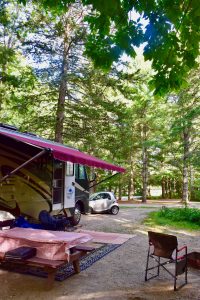 With the exception of added electricity and water at many of the sites, Camden Hills State Park is much the same as we experienced it decades ago.  It was established in the 1930s and still maintains all of its natural features (meaning they didn't clear-cut and commercialize it. LOL). While the number of campsites is relatively small (around 100 sites), the park is actually 5,700 acres, including several mountain tops that provide panoramic views of the Camden area.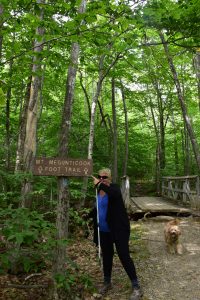 Betty & I attempted the hike up Mt. Megunticook, expecting it to be shorter and easier than I remembered. Well, it was not, and after climbing half way realized our bodies were not quite as nimble as they were many decades ago! Neither of us is a quitter, but we recognized our limitations on this one, and returned to our campsite, retrieving our car for a pleasant drive up Mt. Battie instead.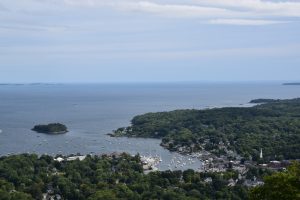 The town of Camden is an extremely photogenic seaside community, serving as the backdrop for movies such as Carousel and Peyton Place. The sheltered harbor is full of sailboats, and the streets are lined with 19thcentury character homes, inns, and quaint shops. Camden refers to itself as the Jewel of the Coast, and it certainly is a beautiful seaport.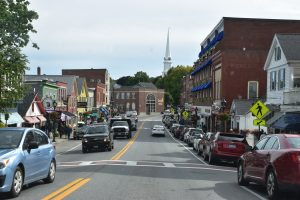 Tomorrow we will head to New Hampshire and Vermont, away from the path of hurricane Florence. We are already starting to see the fall colours appear on some of the many trees we pass, and expect to see more as the overnight temperatures begin to drop. To the list of firsts recorded above, we can now add Maine as the first state visited on this leg of our overlandish adventure!
Cheers!