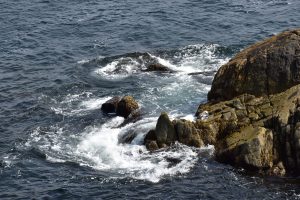 When Betty & I left Whycocomagh Provincial Park, near Baddeck, Nova Scotia, we weren't sure how far we would make it on our next day's drive. Each of our maps is set to a significantly different scale, so some apparently lengthy journeys take no time at all, while other drives – particularly along the scenic routes – take far longer as the road dips and dives, twists and turns, and bumps at slow speeds through many tiny hamlets on our path.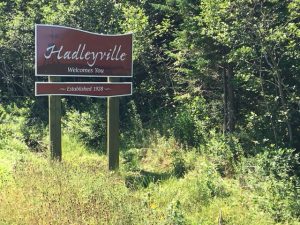 Our wonderful next-door neighbours in Calgary – the Hadleys – originally came from Hadleyville, Nova Scotia, along the eastern shore, not far from Cape Breton Island, so we thought it only appropriate to take the scenic Marine Drive through the community that brought them together so many years ago. Unfortunately, the road was in very poor condition with no pull-off large enough to handle our motorhome and tow vehicle while we stirred it up with the local Hadleys, Carters, and McKays. We can hear our old neighbours breathing a sigh of relief that we didn't stop to participate in the tradition of buttering the noses of anyone having a birthday that day! LOL.
The redeeming feature on this lonely, bumpy (one of our automatic leveler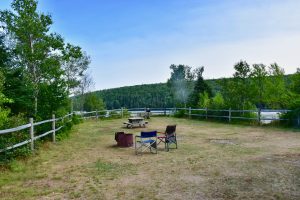 controllers got knocked loose along the way!), twisty road is that it leads to some very beautiful underused provincial parks. Our first night after Cape Breton was spent at site 18 in Salsman Provincial Park, Goldboro, Nova Scotia. As with many of the province's provincial parks, there were no serviced sites available. But because of our solar system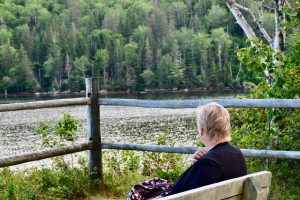 and large storage tanks, we were able to fully enjoy a private site on a small peninsula, providing dramatic water views on three sides.  It was a quiet spot to listen for the loons while we watched the shooting stars in an area not subject to light pollution.
Betty & I are now in site 11 at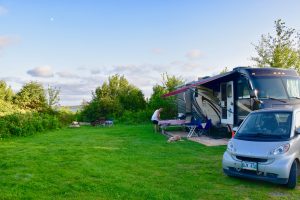 Porter's Lake Provincial Park near Halifax. The few serviced sites in the park are full, but many of the unserviced sites are empty, with a large selection from which to choose. Attached are some pics of this nice site.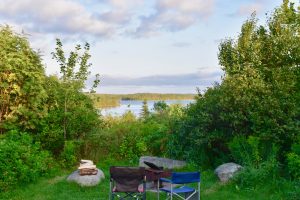 We hope to spend at least another week in Nova Scotia, and have noted two Harvest Host sites, and two Boondockers Welcome sites, but we expect that much of our time will be spent in Nova Scotia's apparently underutilized, beautiful, but somewhat remote provincial parks. We'll keep you posted…
Cheers!