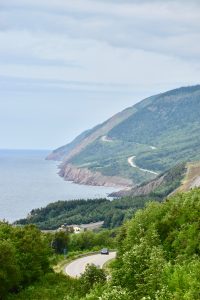 As Betty & I continue our overlandish odyssey, we are struck by how beautiful and diverse Canada is! There are so many grand iconic symbols in our country, from west to east, north to south. Each has a story to tell that contributes to the amazing, elaborate fabric of our nation.  This week we visited one of the east coast's iconic regions: The Cabot Trail at the tip of Nova Scotia's Cape Breton Island.  Words and pictures alone do not do justice to what we saw and experienced. At some point I hope that all of our family and friends can make the journey to this breathtaking region. In the meantime, here are some pics taken along the way – many from a moving Smart car, as the narrow trail would have needed a continuous roadside pull-off to capture all the beautiful vistas.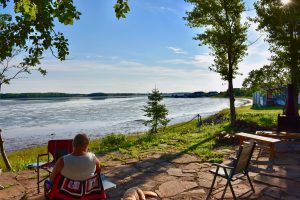 Our first stop after leaving PEI was at a Boondockers Welcome home on the south shore of the Northumberland Strait, in another new province: Nova Scotia. Our host was away at the time, but was gracious enough to allow us to stay in her driveway and sit at her patio by the water, while she was gone.
We expected to find a serviced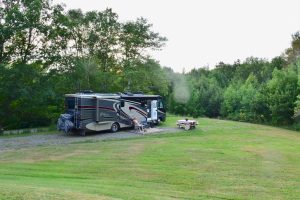 campsite on arrival at Baddeck, a centrally located town on Cape Breton Island. But when Betty & I stopped at the Welcome Centre on the way into Nova Scotia, the staff member warned us that we might not find accommodation without a reservation. She called the Baddeck area campgrounds for us, and sure enough, they were full. In the end, she found unserviced spots for us in Whycocomagh Provincial Park, near the start of the Cabot Trail. We spent 2 nights in the first, and are now in the second scenic spot for 3 nights.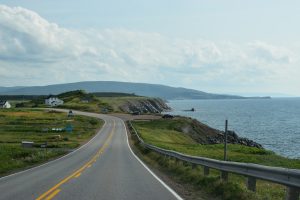 From our campground we set out on a counterclockwise loop around the Trail, placing all of our scenic lookouts on the right-hand side. Fortunately, we heeded the warning to take our Smart, and leave the Boy at our campsite. BTW, this move saved us about $175. in gas costs. While we saw a few motorhomes on the trail, most appeared to be laboring on the steep, twisty inclines. We saw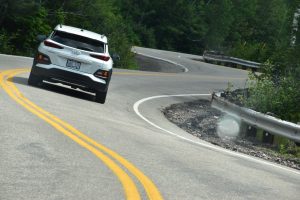 one struggling diesel pusher, with its tow vehicle disconnected and following behind with hazard lights activated. Very few pull-offs could accommodate a larger motorhome, and the narrow roadways, with little or no paved margins, would have contributed to a not-so-pleasant white-knuckle drive.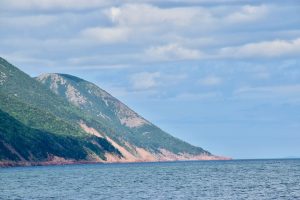 In the seven hours we took to make the loop, Betty & I took about 300 pictures. The approx. 18 pictures in this post only provide a brief taste of this spectacular landscape. We hope all can take the time to visit this iconic corner of our beautiful tapestry.  Enjoy the Trail!
Cheers!