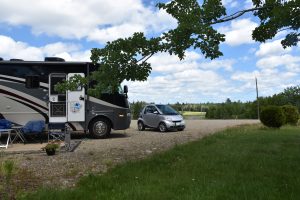 After a quiet, peaceful stay at John & Donna's Boondockers Welcome site near Kouchibouguac National Park (you have to ask the locals how to pronounce it) we drove down the picturesque New Brunswick coast to Bouctouche, where we expected to get our fill of scallops. The annual scallop festival was last weekend in Bouctouche, but we figured there would still be some left over if we arrived on Monday. We figured wrong…
There was not a scallop to be had, so instead the local fish market stocked us up with crab, lobster, and seafood lasagna. I guess we didn't come away too badly after all. LOL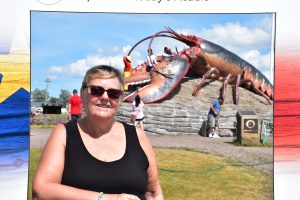 We continued on down the coastal road with Shediac, New Brunswick, as our destination for the next couple of days. Our large, full service site is in the popular Parlee Beach Provincial Park, where we were eligible for a senior's discount. Ain't it great being old!
It's likely been at least 20 years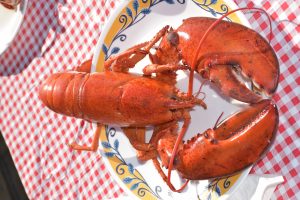 since I was in Shediac – the Lobster Capital of the World! – and I remember stopping at a canteen on the wharf for a lobster supper. The cook passed the lobster out through the open window, and I unceremoniously ate it at a picnic table overlooking the harbor.  I was hoping to share a similar experience with Betty, but it seems the vendor has been replaced by a series of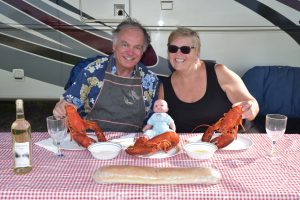 full-blown restaurants. While they offered attractive choices of inside or outside dining, in the end we opted to stop at a local fish market, and picked up some cooked lobster for dinner.
We took the lobster back to our campsite, where we could shower off after splattering ourselves in lobster goop. You can see by the pic that we bought three: one for Betty, one for Gavin, and one for me. Ok, in the end Betty & I helped Gavin eat his, as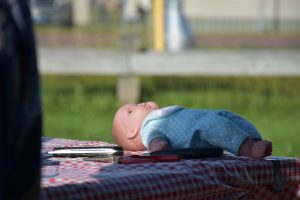 his eyes were bigger than his stomach. LOL.  Since we didn't have the delicate tools on hand for removing the tasty morsels from the crustaceans' extremities, we resorted to smacking the claws with my hammer, and cutting the shells with a pair of tin snips. It wouldn't have been an attractive sight in a restaurant, but MacGyver would have been proud! LOL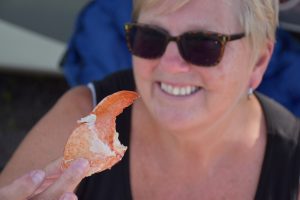 Tomorrow we head across the Confederation Bridge to Prince Edward Island, where church basement lobster suppers became popular. Betty, Gavin, and I are looking forward to at least a few more crustacean delicacies before we leave the Maritimes. But we know if other locations run out of seafood, we can always head back to Shediac – Lobster Central!
Cheers!