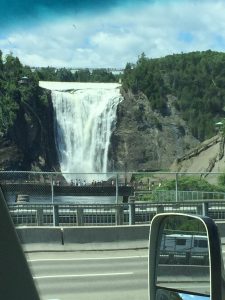 Back in the day, the motto on Quebec license plates identified it as "the beautiful province". More recently, the tag is "Je me souviens" meaning "I remember". Not sure what I remember yet, but I do know that this is one beautiful province!!
After our stay in Rigaud, we braved Montreal traffic, coming out the other side for a nice Boondockers Welcome stay in St. Hyacinthe, Quebec. Our sweet host there, Lisette, invited us in for tea & cookies before a quiet rural night's stay. The next day we topped up at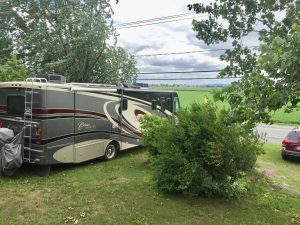 Drummandville Costco (in preparation for Bet's 65thbirthday celebrations) and headed for Quebec City, ending at a Harvest Host winery – Vignoble Domaine L'Ange Gardien– just east of the city.
This winery is simply fabulous –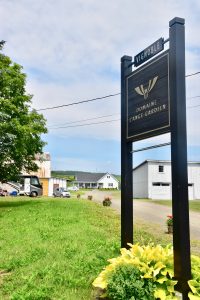 from the wine-tasting, to meeting and chatting with the proprietor, to settling into our free camp spot with a fresh baguette, a bowl of Betty's chili, and a glass of fine wine! The pictures don't do justice. It doesn't get better than that!
Except for the fact that we arrived early enough to take our Smart car for a zip around Île d'Orléans, an island in the St. Lawrance River off the coast of Quebec City, both assessing the capacity of the roads to handle our motorhome,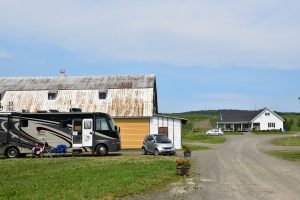 and checking out a campground where we could stay to celebrate Betty's milestone birthday (not to put too fine a point on the date. LOL). After a most scenic drive on roads too narrow for the Boy, we arrived at Camping Orleans on the island's eastern tip, and after confirming that a wider road could be used for access, we booked a site.
Now it must be remembered here that everyone it seems, but us, is speaking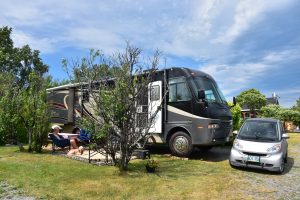 French, and some of the local French Canadian inhabitants don't speak English. When the campground attendant told me the price of our site was two thousand, one hundred and fifty dollars, I almost freaked out, until the person in line behind me corrected his placement of the decimal point. OK, we can handle $215. for our stay in this gorgeous park in this beautiful province! LOL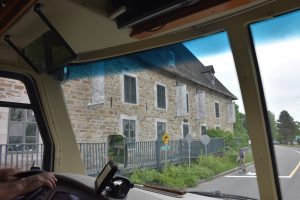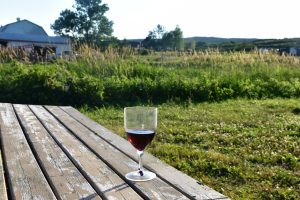 We look forward to posting more pictures of this quaint island and the nearby historic city. I'm sure our adventure will create many long-lasting remembrances of la belle province!
à votre santé
(Cheers!)