Last night Betty and I were camped by the water's edge near Marathon. No,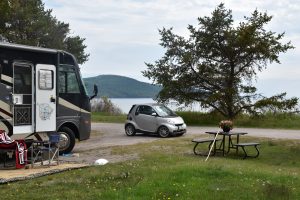 not Marathon in the Florida Keys, but northern Ontario's Marathon. We were not by the Atlantic, but by Lake Superior in Neys Provincial Park.  While we scheduled this stop in our 4 year plan, interestingly, it's not what we expected.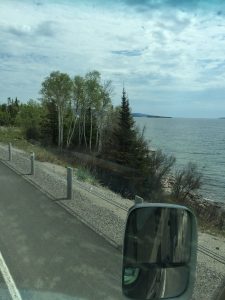 We have taken the north shore of Superior from eastern Canada to western Canada, or vice versa, on a number of occasions, although the road south of Superior is much faster, straighter and flatter, and the price of gas is half of what we are currently paying. We are not taking the southern route now, because it would eat into our 182 day limit for annual time in the U.S., and we are planning the U.S. portion of this trip to follow a full drive across the eastern half of our fair nation. If you are in a rush, this northern route is not the way to go. If amazing, beautiful, iconic Canadian scenery is of interest, by all means take the twisty TransCanada!
Somehow, we visualized the stop between Kakabeka Falls and Pancake Bay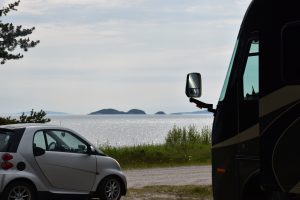 Provincial Parks as Neys Provincial Park, near Marathon. But as we passed Rainbow Falls Provincial Park just west of Schreiber, Ontario, we recognized thatspot on the shore of Lake Superior as the campground where we had previously stayed. And as we pulled into Neys Provincial Park, nothing at all looked familiar to us. Turns out we have never been there before! LOL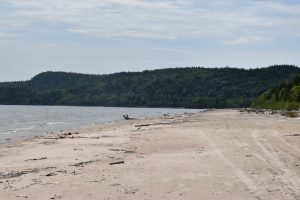 In any event, we had a nice, large site overlooking the beach and the Great Lake beyond, and enjoyed the company of 2 Iowa couples making the circuit around the lake.
Since there was no cell service in Neys, this post is coming to you from our next stop – one of our favourite campgrounds north of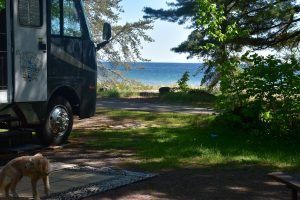 Superior: Pancake Bay. Just northwest of Sault St. Marie, Pancake Bay Provincial Park has one of the nicest beaches along the lake, with campsites close enough that I am now sitting at our dining table hearing and watching the waves roll onto the sandy beach a few yards away.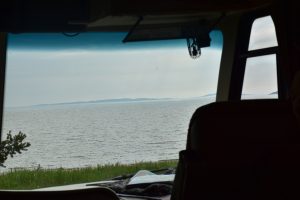 So far, this is the leisurely cross-Canada tour we had hoped for, with many great provincial parks from which to choose, and scenic vistas around every turn. With some stops planned, and others spontaneous, spur of the moment opportunities, Betty and I are sure to experience the rich character of Canada's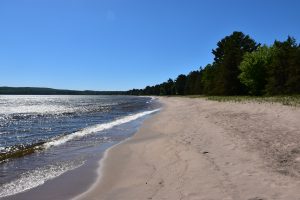 natural beauty on this great adventure, and are eagerly anticipating many more unexpected delights.
Cheers!