Betty & I are preparing to embark on the next leg of our Overlandish Odyssey (or Oh, Oh, for short – the sound you make in anticipation of something about to happen, and you don't know the result… LOL)
Our inaugural journey was a great learning experience, but we know we still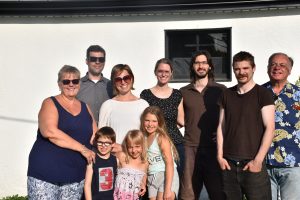 have more to discover, as Ontario license plates suggest. When we packed for our first trip, we asked ourselves "What will we need for the next 5 years on the road?". On return, we found we had packed much more than we needed, so our question now is "What will we need for this leg of our journey?". Fortunately, our family members are gracious enough to store items we are not taking, but may need in future.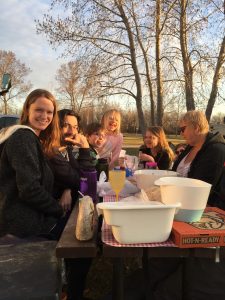 As Betty has indicated, reconnecting with family and friends has been the sweetest and best experience of the past month. It's been great to have individual and group dinners – a couple of them are pictured here – and to attend other special events in our grandkids lives during this short stay.  We know those times are what we will miss most during our travels, and already look forward to seeing their continued growth in character and interests on return.
This month has also provided the time to ensure a safe foundation and good under standing for each of us. Charlie's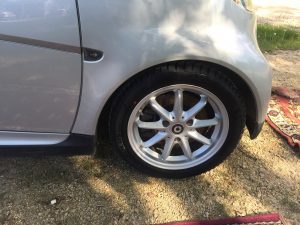 nails have been cut as he received a fresh grooming yesterday. The Smart car has tire pressure transmitters that can be monitored from inside our coach, along with a new set of all weather tires, replacing both the winter and summer tire sets previously alternated. (We're not intending to need winter tires much in the next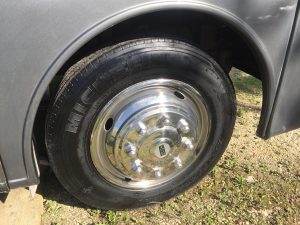 few years. LOL). The CruiseMaster has a fresh set of Michelins – manufactured in March 2018. (We had been told by many over the past 3 years that our tires were past their best before date, so are finally glad to have a safe base on which to roll down the road.) And of course Betty & I have both experienced fresh pedicures yesterday, so we all exhibit that good under standing. LOL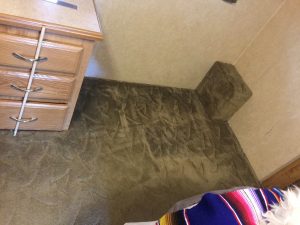 In addition to taking the CruiseMaster in for an oil change, water pump upgrade, and general check-up, we took the time to organize our interior storage a little better. We re-organized our basement compartments, and added a closet and additional work and storage space to the back of our bedroom. Previously we had a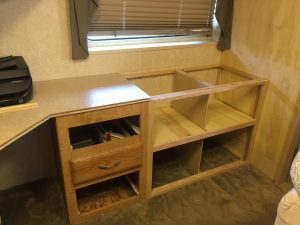 lazy-boy type recliner in the space pictured, but never used it for anything more than holding dirty clothes. Two of the attached pictures show the cupboard under construction and the finished product, with enough room in the closet for a full-sized set of golf clubs, if I find them in that Florida flea market next winter. LOL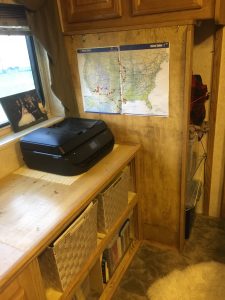 Finally, we can report that we more or less successfully attached the Carefree of Colorado add-a-room that we purchased in Oklahoma. I say more or less, because there is still maybe an hour's work left to finish what is promoted as a 15 minute install. But that will be for another day. Today we have almost everything tucked away, and will soon be washing Charlie's nose prints off the windshield so we can see where we are going tomorrow.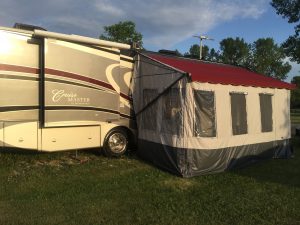 So oh, oh, here we go again!  Watch out for us on the road as we continue our overlandish odyssey.
Cheers!