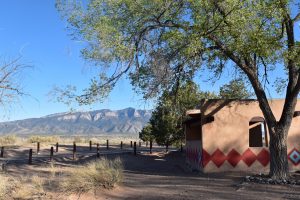 Ok, with supreme apologies to Dionne Warwick and the city of San Jose, I kept humming this 1968 song all the way from our campsite just north of Albuquerque, New Mexico, to Santa Fe this week.  Unbeknownst to me, Betty was humming the same song all the way there also. LOL!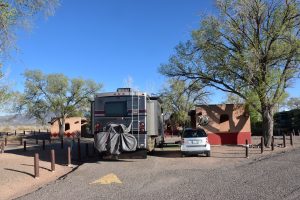 We had difficulty finding a campground in both Santa Fe and Albuquerque, and ended up in the municipal Coronado Campground in Bernalillo, New Mexico, about half and hour north of New Mexico's largest city (Albuquerque), and an hour south of its capital (Santa Fe). Of course again we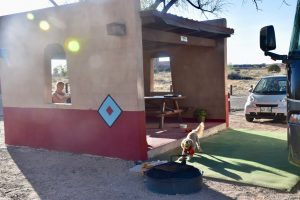 didn't know what to expect, but decided to book a week's stay in order to receive a discount and have time to visit both cities.
My apologies for posting so many pictures of our campsite (six), but it was just so unique to have our own adobe structure with picnic table, carpeted patio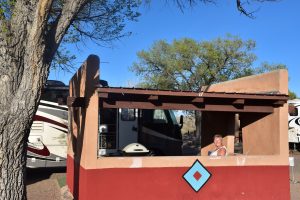 and firepit for $21./ night, including water and electricity, in a delightful little campground on the banks of the Rio Grande River!
Every picture I took of Betty was beautiful, in my humble opinion. The sun cast a halo around her head, which was obviously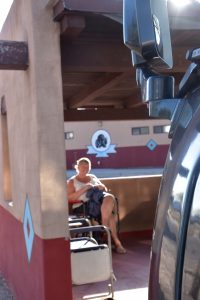 appropriate for this angel!
Since we had never been to Santa Fe before, we chose to take a bus tour around the city, which turned out to be a good decision. There was only one other couple on the small bus, and the driver was very knowledgeable about all the local sites. The only downside was that the bus almost never stopped in the hour and a half tour, so all of the pictures are taken through the windows of a moving vehicle…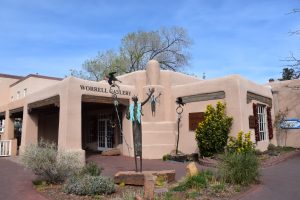 The large downtown section of Santa Fe is a very cohesive, regulated area: You won't find any fast food restaurants with their gaudy neon signs there. With no highrises, nearly all buildings are smooth earthtone adobe structures, providing a very calming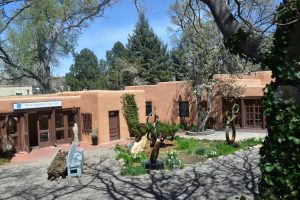 impression: Santa Fe style. Artwork is everywhere, and there are literally dozens, if not hundreds, of art galleries in the city. (I didn't google the exact number, which I'm sure is available, but the volume of art is most impressive!)  Again, attached are just a few of the many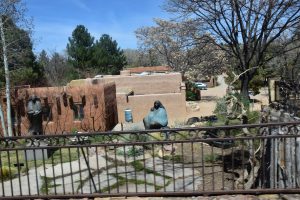 galleries we passed.
Albuquerque is divided into a number of neighbourhoods, including downtown, uptown, midtown, nob hill, and old town. Yesterday (Saturday) we spent most of our time walking the streets of old town.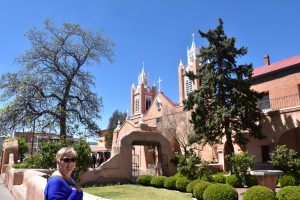 The church pictured here is San Felipe De Neri, the oldest in Albuquerque, serving the community since 1706. During the afternoon, there were at least 2 back to back weddings taking place in the chapel. It is still an integral
part of the community.
As in Sante Fe, many local native artisans sell their crafts on the street across from the Old Town Plaza. Maybe it is good that we are currently homeless (or at least living in a tiny house), because we were tempted to buy more than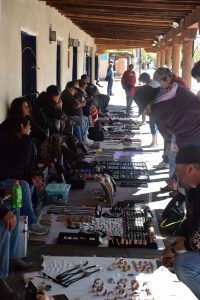 what we can currently carry and exhibit — Some very attractive pieces by extremely talented artisans!
In so many ways, our time spent in Albuquerque and Santa Fe was far too short, but now that we know the way to Santa Fe, hopefully we can return on another leg of our overlandish journey!
Cheers!