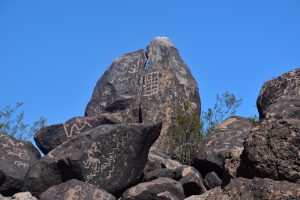 We are east of Yuma, Arizona, at a rock formation covered in graffiti that is thousands of years old! On a whim, we pulled off the highway at a sign directing us to the Painted Rock Petroglyph Site, and not only found these amazing historic renderings, but a beautiful BLM (Bureau of Land Management) campground as well.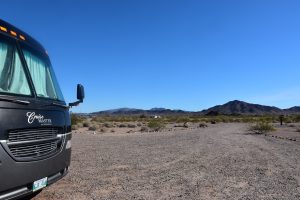 Our unserviced site has at least 150' of frontage, with a large circular drive in front. The back(age?) goes on forever, as there is nothing behind us but a dried up river, desert, and mountains beyond. Included is a level parking area, a sturdy cement picnic table, a fire pit, and all the firewood you can gather from the surrounding deadfall. All of this for $6.!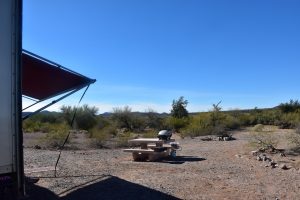 Because we have our America The Beautiful pass, our visit to the petroglyphs is free.
Attached are a few pictures of our campsite, but they don't do justice to the amazing views in all directions. Some of the pics show others in the campground (maybe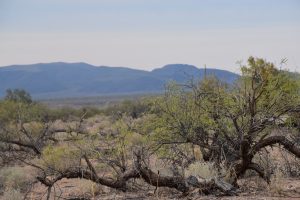 12) that are some distance away, although because it is so absolutely quiet here, you can hear their voices quite clearly — an interesting experience when the city and traffic noises are reduced to zero. As we have come to expect, the nightly sunsets are so spectacular, I'm glad I don't have to pay to develop all the film I take, like back in the day! LOL.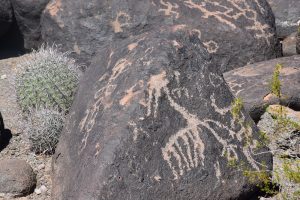 As I write this post, the temp is 89 degrees f. outside, and because this is a boondocking site, the a.c. is not on. Boo hoo… I have to cool off with those margaritas that are intended for stinkin' hot days. So now you see the reason for my lack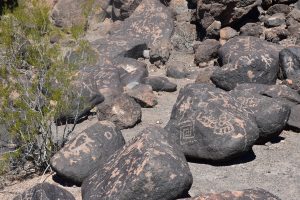 of eloquence…
Anyway, here are some pics of those rock of ages. Hope you enjoy!