States 9 & 10…
At times we experience the occurrence and development of events by chance in a happy or beneficial way: serendipity. This week was one of those times.
After our departure from SPI, we passed through the Rio Grande Valley on our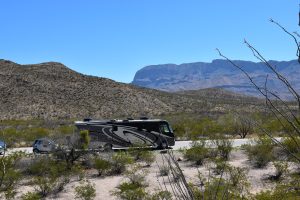 way to Big Bend National Park, at the other southern tip of Texas. Our first stop was a quiet night at a rural home in Zapata, Texas for our first Boondockers Welcome stay. As we sat outside for the evening, the warm air was filled with the beautiful fragrance of local trees, which we were never able to identify. A peaceful night.
As dusk approached the following evening, we entered the small town of Sanderson, Texas. Not wanting to drive through Big Bend Park at night, we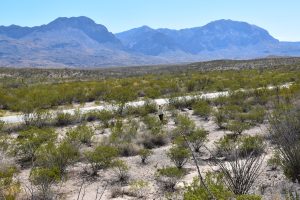 decided to look for a rest area or truck stop for our next stay. The previous town we drove through appeared totally abandoned, with nearly all of the buildings falling down, or having been burned down – not an appealing campsite — so we didn't know what to expect in Sanderson. As we entered the town we saw two motorhomes pulling into a vacant lot by the highway, across from a gas station. We pulled up beside them, and they confirmed that the gas station attendant had told them it was ok to park there, and they said we were welcome to join them.
It turned out that joining them was not simply a matter of sharing the same gravel lot. As I was washing the bugs off our windshield – a standard practice that gives us a clear view of our surroundings in the morning – our neighbour's coach door opened and we were invited in for an evening meal of San Antonio chicken tortilla soup that had been simmering in their crockpot all day. It was a delicious part of this wonderful happenstance!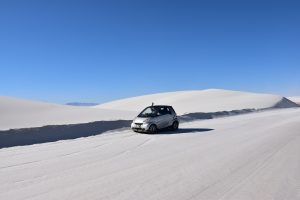 Both couples had just come from Big Bend, so they were able to tell us what to expect. But they also shared about White Sands National Monument, east of Las Cruces, New Mexico (State #9), which wasn't on our itinerary, but we were assured was worth the divergence. Before departing in the morning, we exchanged future travel plans with the hope of reconnecting on the east coast this fall.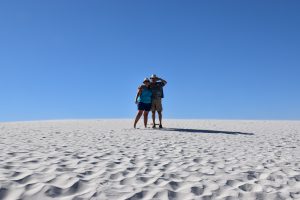 While in the White Sands visitor center, we met a woman who told us about an America The Beautiful annual park pass that we could purchase, with the receipt from Big Bend taking $25. off the $80. cost. We would not have to pay the $10. entrance fee at White Sands, nor the $35. entrance fee at the Grand Canyon, nor the fees for any of the other national parks we hope to visit in the next 13 months. Another serendipitous meeting!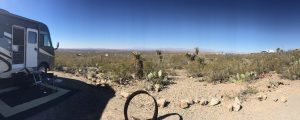 Attached to this post are some pictures from Big Bend and White Sands,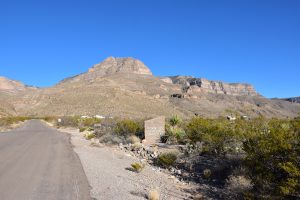 along with the spectacular views from our Oliver Lee Memorial State Park campsite in the Sacramento Mountains and the Chihuahuan Desert near Alamogordo, New Mexico, adjacent to the Lincoln National Forest.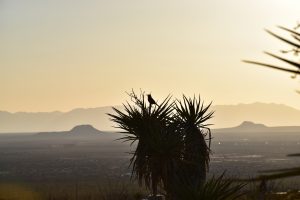 We have now arrived in Tucson, Arizona (State #10). Our first night was at the Pima County Fairgrounds on the eastern outskirts. Nothing more than a large, full-service gravel parking lot with excellent wifi, we stayed here so we could consider options in this unfamiliar city. This leads to our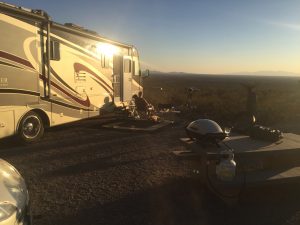 final serendipitous occurrence so far this week! We have found a fantastic site at the Gilbert Ray campground, in Tucson Mountain Park, overlooking the Sonoran desert and Brown Mountain. The park is also adjacent to Saguaro National Park. While we are not sure if we will have Internet or cell access for the next week, we hope to be able to post about this amazing landscape soon.
In the meantime, I thought I'd just share some of our serendipity-do-daw!
Cheers!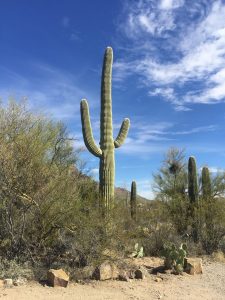 This 20′ high cactus is in our current campsite!  It was serendipitous that we got this site, as the park fills up fast on a first come basis. We will try to post additional views soon.