All the "S"s have come together this weekend to create a great experience in paradise!  While the sun has been rather elusive in south Texas for the past 3 weeks, today is a beautiful sunny beach day, with the current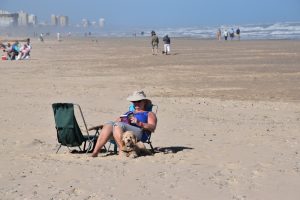 temp of 80f (27c) and a light breeze blowing down the shoreline. (Reported high of 90f (32c) while we were at the beach!) Apparently we can expect more of the same in our final three weeks here, although the forecast continues to be unpredictable.
Betty, Charlie & I have just made the 2 minute walk from South Padre Island's fabulous sandy beach, back to our motorhome. Charlie has had an outdoor shower to rinse off some of the excess sand, and I have cracked open a chilled bottle of Walmart's finest Pinot Grigio as we relax on our little patio.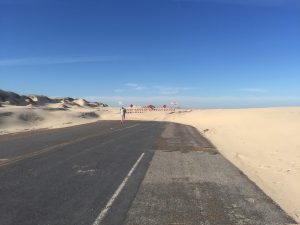 There's a lot to see and do in south Texas. This week we drove to the end of the road looking for Boca Chica State Park and found ourselves on a totally undeveloped sand beach. Apparently the area was declared a State Park in order to protect it from development, with the closest sign of civilization being a curious Elon Musk SpaceX installation near the end of the road…
As we drove also to the north end of the road on SPI we were reminded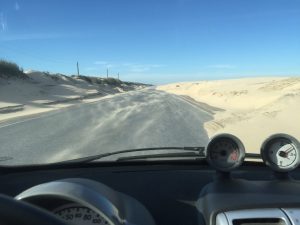 of driving in Canadian winters, where the wind swirls and sweeps snow drifts across the highway. Except for us this week it was warm, fine-grained sand being swirled and swept across the road: Much more enjoyable!
Yesterday we drove to the large sand flats just north of SPI's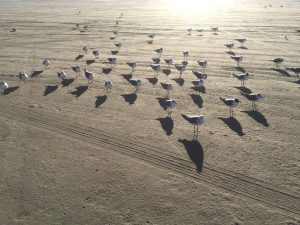 convention centre and met up with a large flock of seagulls that seemed as interested in us as we were in them. Here is a picture of them standing quietly on the sand, just before Betty dropped a handful of trailmix outside our Smart car window. If you've ever seen the movie "The Birds" you will get the sense of our experience next, as we attempted to outrun the seagulls before they picked up our little car and carried us away! Total mayhem!! LOL
Our main reason for going to the sand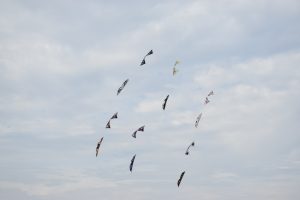 flats was to see a free exhibit of the most amazing sky craft ever! Kites of all colours, shapes and sizes hovered over us, and we witnessed a fascinating ballet in the sky, as individual and group kite flyers danced their kites in front and above us to music. We have no idea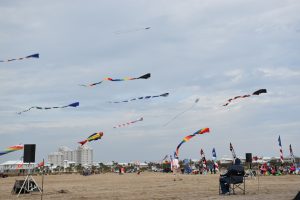 how 8 – 12 flyers could choreograph such tight, exacting moves in the air without getting their kite lines all tangled. The attached pictures do not do justice to the deft skill of the experienced flyers. Simply amazing!
At the risk of sounding repetitive, I must end another post with the final "S" of our title. For my birthday this week Betty took me to a Fleetwood Mac tribute concert where some great surf 'n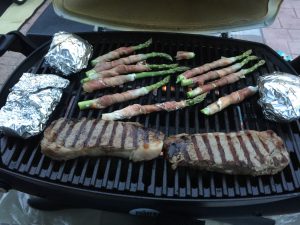 turf was served: lobster tails and bacon-wrapped filet minion – very tasty. However, last night's bbq offering was also a mouth-watering delight. Attached is a pic of our steak, prosciutto-wrapped asparagus, and baked potatoes on the barbie, paired nicely with a Valpolicella.
This weekend's experience of sun, sand, seagulls, sky craft, and steak again  reminds us of why we came to paradise!
Cheers!