Expecting to see an island reduced in size by recent hurricanes, Betty & I were surprised to find Galveston Island apparently twice the size of our memory. I say apparently, since I am sure the island is the same size as before – just a significantly different recollection…
We began our exploration by visiting the State Park beach side campground where we had previously stayed. More than twice as many sites were developed since our last visit. The drive to the south west end of the island took twice as long, with many more colourful, stilted cottages added to the landscape. Episodes of Beachfront Bargain Hunt flashed through our minds the whole way.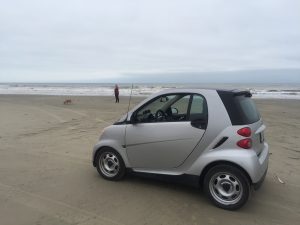 Toward the end of the island we turned our Smart car onto the beach. Charlie enjoyed the chase of the car along the hard-packed sand, taking a mad dash into the waves along the way. He has always loved water, and returned to our campsite a happy and tired puppy.
We then headed down the waterfront drive to the opposite end of the island – a trip that took twice as long as we expected. From there it was our intent to visit the fresh fish outlet that we had stopped at on a previous trip. My recollection was that it was just below the bridge to the mainland, but the drive to the far side of the island was – you guessed it – more than twice as long as before.
Many parts of the island appeared rebuilt after previous hurricanes, and memory didn't serve to get us to our destination. Enter Google and we were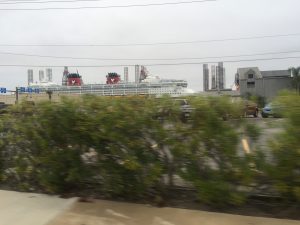 taken past a Disney cruise ship in port, finally arriving at the unique open outlet on the side of the harbor where today's catch was laid out on beds of ice. The pelicans we remembered seeking scraps at the front of the store were now fenced off on the harbor side, but they were still there. We picked out some large, fresh shrimp, red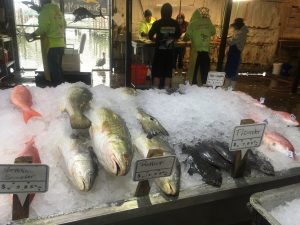 snapper and a couple of flounder, and the fish were filleted for us on the spot to our specifications.
Back at our campsite, I fired up the barby & we cooked red snapper with fresh lemon slices, some baked potatoes and a Missouri rib eye steak. The surf 'n turf was paired with a Pinot Grigio and a Valpolicella. I know, twice the food and twice the wine, but the tasty meal fit well on an island that appeared to be twice the size of our memory!