No, not the Kurt Cobain band, but the state of perfect quietude, freedom, and highest happiness. That is where Betty & I found ourselves yesterday.
We began our less than grueling day, breaking camp in Austin, Texas, and driving for an hour to Bastrop State Park. Being a weekend and without a reservation, we had no idea whether they would have a campsite for us. As it turns out, we had our choice of sites, and selected one at the end of a loop,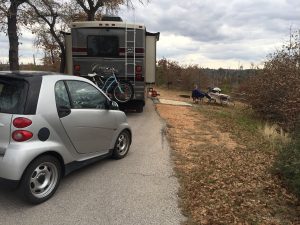 with a scenic lookout over valleys in 2 directions. The park had suffered from a major forest fire in 2011, but new growth and fresh plantings were evident, and the campground is well cared for. To our surprise, we have a large, full service
site at half the price we had paid in Austin. With a paved parking area, the automatic levelers did quick work of stabilizing us, and a push of another button had our slideouts expanding our living space in no time at all.
For lunch Betty presented sushi with an assortment of cheeses and crackers, all paired with a nice Beaujolais. For dinner I prepared my famous prosciutto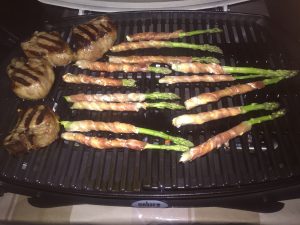 wrapped asparagus and lamb chops on the grill, and served with mint sauce and a bottle of Cambridge & Sunset Pinot Noir. We sat outside and enjoyed the warmth of a Texas evening, the perfect quietude of our camp spot, the freedom that retirement brings, and the highest happiness of each other's company. Nirvana!