A funny thing happened on the way to McKinney Falls State Park in Austin, Texas yesterday. We plugged the co-ordinates into our gps and set off, without first questioning the route she(?) was taking us. As it turned out, it was the most convoluted, twisty, turny, narrow country road through rural Texas, past Austin's dump and a wide range of house styles. (We're convinced that Texas has no building codes or required building permits. You do what you want with your land, however lavish or humble!) Within a mile of the park we crossed over a major street that we had taken many times in the past, as it is a prominent Interstate exit. If we had taken that exit, we would have arrived at the park in half the time!
We laughed at this small (mis)adventure, realizing at the same time that speed, and the most direct routes, are not necessarily our goals on this journey. There is a lot of country to see, and you don't catch it all from the Interstate.
Not that we are totally devoid of planning — leaving our adventure in the hands of a gps who routinely tells us to turn left when we can see our destination on the right… We planned and succeeded in visiting Central Market in Austin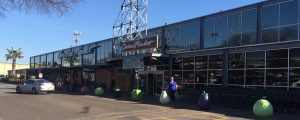 yesterday, picking up some fabulous fresh fruit, vegetables, breads, cheeses, wines (buy 6, get 10% off – how can you go wrong with their huge international selection!), steak, lamb, and other unique food items. It's always a treat, but we have to limit ourselves by the size of the Smart car "trunk".
We also picked up a new Weber bbq (grill in America) that I had ordered on-line last week and had delivered to an Austin Walmart. After some assembly required, I seared those aforementioned Missouri-raised steak, and we enjoyed a candlelight dinner with a fresh salad, baguette, and a nice bottle of Valpolicella.
In the end, our dinner and night's stay were at Austin's Lone Star RV Park, as McKinney Falls State Park was fully booked in advance – no room for those who didn't plan ahead… Before we pulled out of the park, the friendly ranger wanted to direct us to alternate state parks. "Are you headed east or west?" To which I answered: "Yes"!