Before modern environmentalists and recyclers, there was my dad.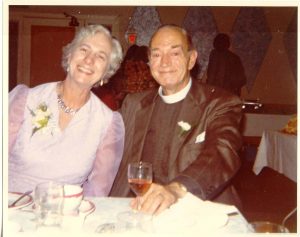 Yesterday I wrote about the decluttering process that is necessary to move from a house to a motorhome. Somehow saved until last month was a neatly ironed and folded stack of my dad's 38 year old hankerchiefs — I say 38 because that's how long it's been since he passed, but in reality they are likely closer to 50 year old cotton!
Eschewing the modern throw-away kleenex (or should that be achewing (LOL), my dad always carried a supply of hankies in his pockets. Not sure how he kept track, but I assume those in his pants pocket were for a runny nose, while those in his breast pocket were for drying the tears of those who mourned.  As a church minister, he officiated at funerals for over 40 years, and was familiar with those in sorrow and grief.  The extended hankerchief was a comfort to many.
Anyway, among the many other treasures, those hankies are now gone.  Somehow I can't imagine anyone now taking the time to wash, fold, and iron little pieces of snotty cloth, but maybe I should have kept one as a reminder of my dad's compassion.  No? Ok, on the road I can read this digital memory instead. LOL