Yesterday Betty & I visited our financial advisor to consider investments and cash flow requirements for our outlandish odyssey (or should that be overlandish odyssey — LOL).  In our bricks & sticks home, we had a more stable cash flow, with more or less fixed amounts for mortgage, insurance, utilities, property taxes, etc.  However, as we venture into the great unknown, there is a lot more uncertainty. What will it cost on the road?
As former U.S. Secretary of Defence, Donald Rumsfeld, famously noted: "There are known unknowns, and then there are unknown unknowns".  While the Internet has been a great help in eliminating, or at least reducing, some of those unknowns, it has not yet removed all uncertainty.
We have established a U.S. funds account, ordered U.S. funds credit cards at our local bank, and have the required information to set up an account at a partnered U.S. bank, once we cross the border. While we can now somewhat control the exchange of U.S. and Canadian currency at more favourable rates, we don't yet have control over whether the Canadian dollar will rise or fall in relation to the U.S. greenback. If only we were the Governor of the Bank of Canada! LOL
Our motorhome is currently in for upgrades and servicing prior to our departure. But we don't know if the old (Georgie) Boy will last without major repairs down the road.  Of course we know that new coaches are not necessarily trouble-free either, so we're OK sticking with the old Cruise Master for now.
We now have Canada-U.S. cell phone plans in place, so we know what it  will cost to keep in touch with friends and relatives.  But we do not know how much cellular data we are likely to use when free wifi isn't available for searching future points of interest.
We have calculated basic distances for each of our trips, estimating fuel costs based on gas price trends. But we do not know whether gas prices will spike or drop during our journeys. We also do not know how many side trips or spontaneous adventures we will take along the way that will add to our fuel costs.
We will be purchasing travel insurance for each portion of our adventure, and have roadside assistance plans in place. But we don't know if, when, and where our bodies or motorhome will break down, and whether it will be in proximity to a hospital – or tow truck – as the case may be.
We have an idea of campground costs on our route, and are excited to find that there are many cost-saving accommodation options. We now have an Escapees RVClub membership for campground discounts, a BoondockersWelcome.com membership for free overnight stays at private residences across North America, and an app showing all U.S. Bureau of Land Management (BLM) property – similar to crown land in Canada – where dry camping is permitted. We will be taking out a Passport America membership as we begin our trip (our 6 month free discount coupon can only be redeemed in person), giving us further campground discounts.  And maybe best of all is our Harvest Host membership, that allows us to stay for free at farms and wineries across the continent!  Of course, we also have noted Walmart, Lowes,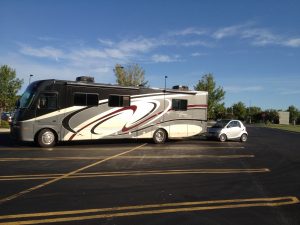 Cracker Barrel, Flying J, rest stop and casino locations that allow free overnight rv parking.  But because this is a new endeavour, we don't yet know how often we will need to plug in, fill up, and dump our tanks.  While we will have some control over accommodation costs, there is still a significant "unknown".
If we boondock more, we don't know at what point we should be investing in solar panels, inverters, and lithium-ion batteries to keep the juice flowing.  Betty reminds me that when we camped in a tent, we didn't ever use electricity. The morning coffee and bacon & eggs were prepared over the campfire. Washing up – ourselves and the dishes -was also accomplished with water heated on the fire.  Baked beans, tastey toast sandwiches and evening smores  around the fire finished off the day. My only problem is, I can't remember where in that fire pit my iPhone was plugged in! LOL.
As we venture into the great beyond, these are some of our knowns and unknowns regarding the cost of our folly.  I guess we will just have to remember that life is a priceless gift, and we may never be able to fully count the cost of our decisions – just do the best we can with the resources that have been entrusted to us for the road ahead.
As Roy Rogers used to sing: "Happy trails to you, until we meet again!"