As previously reported, Betty doesn't swear. But today was another one of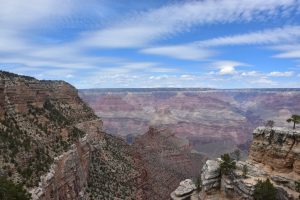 those occasions on our overlandish adventure when an exclamation was more than appropriate. We have just returned from the Grand Canyon and are trying to put words to what we have just seen. In an unusual turn of events, words escape us both! LOL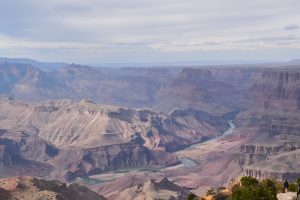 Of course everyone who has been raves about this one of seven natural wonders of the world. Ya, ya, can the reality live up to the hype? Well, yes it can! I limited myself to 87 pictures from the southern rim of the canyon, which stretches 446 river km long, up to 29 km wide, and 1.6 km deep. This post only includes seven pictures, but we're not yet ready to delete the rest!
Even though we were looking into the same abyss every few feet, we seemed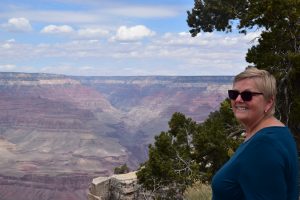 to be seeing it differently each time. The way the light changed throughout the day; the variations in rock formations; the changing colouring and striations on the cliffs, all affected our visual experience. It was one "wow" moment after another for the 20 km we hiked today. Ya, it was a great workout!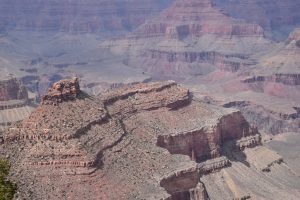 On return to our campsite at the Grand Canyon Railway & Hotel RV Park in Williams, Arizona, we selected the pictures to add to this post, knowing that none of them fully capture the panoramic experience at the cliff face.
Millions of people from around the world visit the Grand Canyon every year. While some people take the train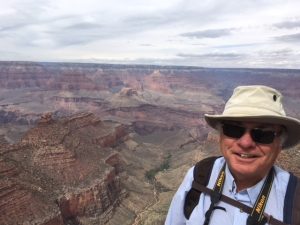 from Williams, others see the park via helicopter or mule ride down a steep path in the cliff. Some hire 4x4s to take them to the bottom, while others go white water rafting down the Colorado River at the base of the canyon. All of these are expensive propositions, and we have to admit to connecting to our thrifty Scottish roots and our fixed income.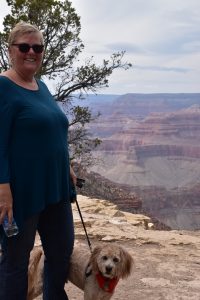 We used the America the Beautiful pass purchased in New Mexico, so entry to this National Park didn't cost us anything extra. We used our Passport America membership at the campground, so we received half off the regular price for accommodation. We left our motorhome in the campground and drove our Smart car through the park, so parking was always convenient, and when I topped up the tank at Pilot, I was able to use my Flying J card to get 6 or 8 cents off a gallon. A very economical visit!
Betty & I are visiting the Grand Canyon for another day and a half, before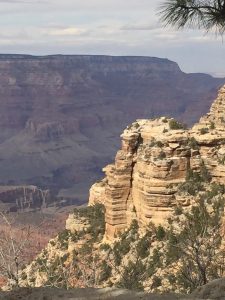 moving on to Albuquerque and Santa Fe, New Mexico, so don't be surprised if you see more pics of this natural wonder. And don't be surprised if you hear Bet exclaim again "That's a frickken big hole!"
Cheers!
A special note from Betty: We are having a discussion on how to spell my word…is it frikken or frickin or frickken? What are you thoughts? 😛