This week we reached the end of an historic first chapter in the story of our overlandish odyssey. We said goodbye to our little piece of paradise on South Padre Island, and the wonderful friends we made while there. After leaving Winnipeg on Dec. 26, this was the first destination where we settled in for just over six weeks, representing a much longer period than the traditional vacation prior to retirement – the end of the beginning of our full-time adventure!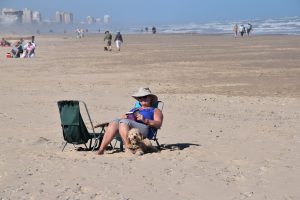 In the past we've always experienced a sadness in leaving the sun, sand, and
sea of SPI. But this time it was not to return to work, but to press on to new vistas in New Mexico and Arizona. What new encounters await?
All the same, saying goodbye elicited all the emotions normally evoked by Robert Burns' poem "Auld Lang Syne", which is often sung to bid farewell to the past year, and welcome the new. We said goodbye to the waves, the dunes, and the seagulls, although the sand was another matter – I think it will still be with us in our carpets, clothes, and car for many months to come! LOL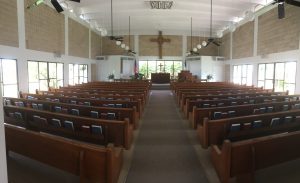 We attended our final church service at Chapel By The Sea, with another chuckle as a choir paraded to the front for another anthem. Yes, I had a-choir-ed a taste for that! LOL
We made our final trip across the Queen Isabella causeway, which as always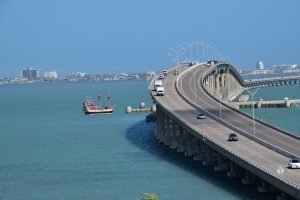 was in the curb lane so that Betty could watch for dolphins in Laguna Madre, and I could watch out for pelicans landing on the bridge. At its highest point, the span always provides a wonderful view of either SPI, or Port Isabel.
We said goodbye with a final meal at Joe's Oyster Bar in Port Isabel, with the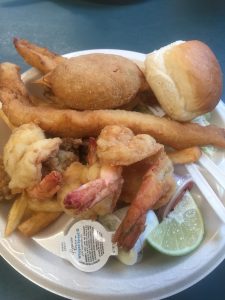 bestest, freshest, most delicious seafood in the area! The flounder, shrimp, oysters, and stuffed crab cake are fabulous, as is the fresh cole slaw that accompanies "Joey's Deluxe Seafood". Can't wait to go back there again!
But maybe the most conflicting emotions came in saying farewell to our new friends at Isla Blanca Park. We experienced a great sense of community in our section of the park, with neighbours reaching out to greet us on arrival, and bidding us safe travels as we closed our slideouts, lifted our levelers, and pulled out. And in between were many acts of kindness: From the fresh pecan pie brought over by a neighbor, to an invitation for Betty to join a crafters' club while at SPI.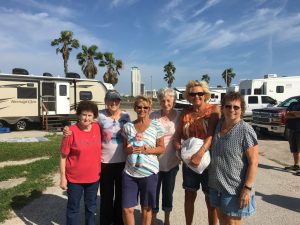 It turned out that some had not only been coming to Isla Blanca for the past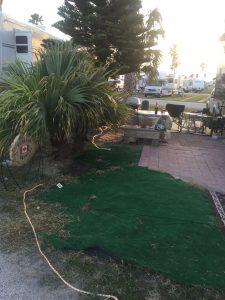 20 years, they have been coming to the same site, reserving it for the next year's season with a $100. deposit on arrival. Many sites have been customized, including ours, with the addition of stone patios, indoor/ outdoor carpeting and flower beds. Neighbours were able to point to mature palm trees that had been planted by camper friends many years before, a unique tradition for a public park. (BTW, this was the final year for this tradition, as the park is about to undergo a complete upgrade.)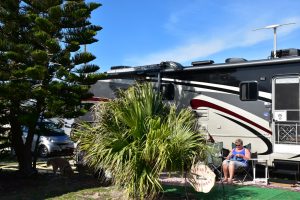 Before we made our day trip to Mexico, as mentioned in a prior post, one of our neighbours appeared at our door saying "If you leave your motorhome unlocked while you are away, I can take Charlie for walks and make sure he's OK." We had already observed that bikes and other possessions were left unlocked, not out of carelessness, but out of an awareness that people looked out for each other – a most wonderful characteristic. We returned to find that Charlie had enjoyed his day as much as we had!
Adding all this to our package of memories, we are convinced that these new auld acquaintances won't soon be forgot, and never brought to mind!
"We'll tak a cup o' kindness yet, for auld lang syne…"
Cheers!