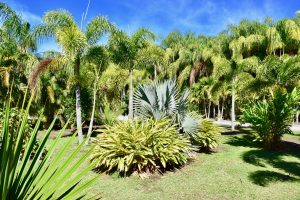 After Betty & I said good bye to our family at Disney World, we were hoping for a little beach time on the Gulf Coast of Florida. Since we didn't have any reservations, we just hoped to find a quiet spot once we got there. Well, it turned out that a lot of other snowbirds had the same idea, and beach/camping spots were few and far between. Whenever we thought we had found a good spot, it turned out we were wrong. For a while at least…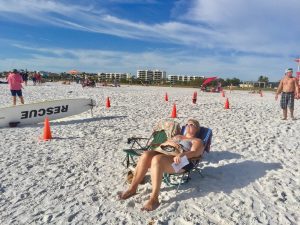 We continued west from Orlando to Tampa, over to Clearwater & up the coast road past Dunedin, to Crystal Beach. After finding nothing but congestion, we turned south to St. Petersburg, and as we were starting to lose sunlight, we bit the bullet & checked into the KOA there at $126./night – ouch! The next morning we headed south to Bradenton and crossed over to the coastal road by Bradenton Beach, following this scenic route through beautiful Sarasota, and then back to the mainland. All of the state parks we checked were full, but we thought we'd have luck at an Army Corp of Engineers park east of Fort Myers.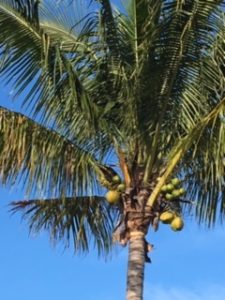 On arrival at W.P. Franklin North we found a beautiful little campground with a vacant spot. Unfortunately when we checked, the spot was reserved, and all current occupants had made their reservations six months in advance. No spontaneity here! Our gps and free campground directory told us that a Walmart 18 miles away allowed overnight parking. But when we arrived it was signed for no overnight parking, so we were on the road again.  Fortunately, we found a large rest area on I75, south of Fort Myers, and spent a night there reconnoitring.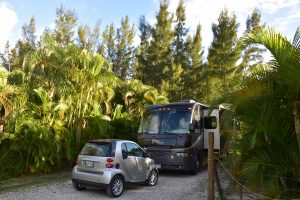 When we checked the Boondockers Welcome site, we found a palm tree farm on Pine Island, west of Cape Coral, that allowed us to stay for 5 nights. We also found an acreage east of Fort Myers, near LaBelle, Florida, that agreed to a 2 night stay following that. We have found both to be tropical paradises!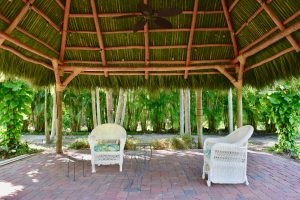 Mike and Deb have a palm farm at the end of a quiet road in Bokeelia, Florida. It was the perfect spot to relax and unwind after our Disney visit, and Mike turned out to be an amazingly gracious host. He described all the exotic plants and palms on his property (I should have taken better notes. Lol), and we used this island get-away as our base camp to go exploring.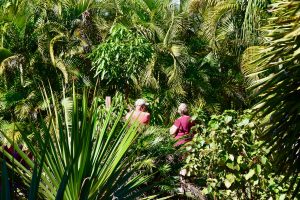 In addition to driving up and down the island, on Mike's recommendation we headed up the coast to Siesta Beach, just south of Sarasota. Having visited many great beaches around North America, we took the claim of this being the #1 beach in the USA with a grain of salt (or sand – lol) until we got there. The beach is wide and long, covered in talcum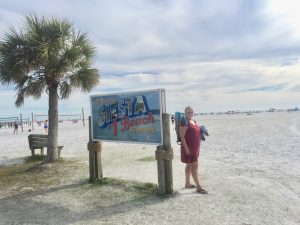 powder fine white sand. The adjacent free parking lot was huge, and the beach access easy, even for those with mobility issues. We reviewed the criteria for the #1 rating, and fully agreed that it is not just local hype. What a great find!
From Pine Island we headed about one hour east to Larry's Boondocker Welcome site near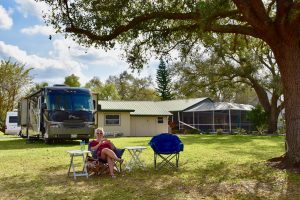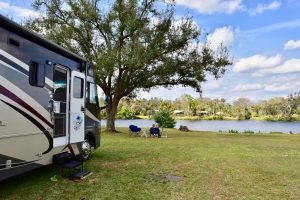 LaBelle, Florida. It is a beautiful acreage backing onto a river that serves as an inland waterway connection between the Gulf of Mexico and Atlantic Ocean. It has been fun to watch the nearby bridge open and ships make the east or westbound passage along this quiet waterway.  Last night we sat around a campfire near the water's edge with our host and other campers, swapping tales about our adventures. Today our thermostat is reading 87f, and Betty is out under a nearby tree, enjoying the light tropical breeze. As soon as I finish this post, the stunning views, fresh air and sunshine will lure me out also.
Betty & I still don't know where we will go from here. We may get lost in Florida again, but for now we have found a little piece of tropical paradise, and are fully enjoying it!
Cheers!