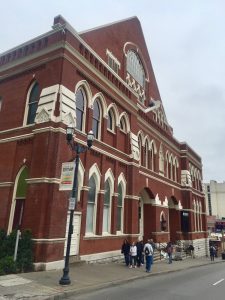 For music lovers, there are a number of places in the southern U.S. that claim to be the birthplace of rock & roll, the home of the blues, the heart of country, and all that jazz. Like trying to find the original source of a large river by following the many tributaries that flow into it, the starting place for any genre of music can be elusive. But our search for some good ole fashioned music did take us to some magical places that definitely contributed to inspired melodic outcomes.  We were privileged to visit a number of those places this month, as chronicled by the following posts.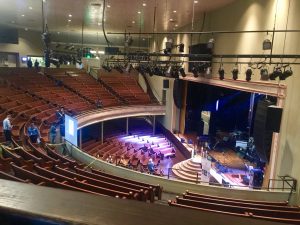 As mentioned in our last missive, Betty & I arrived in Nashville, Tennessee just ahead of torrential rains. But that didn't dampen our spirits. We were there to soak up some music and experience some of the iconic venues in this country music mecca, along with Betty's brother Jack, his wife Christine, and our old friends from Ontario, Penny & Rick.
We began with a Music City tour,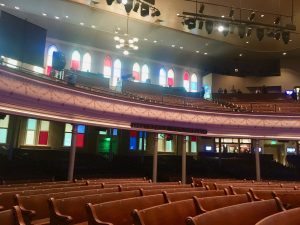 taking us to Music Row, lined with recording studios where many of the current and former hits were born. We passed the Country Music Hall of Fame Museum, the Ryman Auditorium, the Johnny Cash Museum, the George Jones Museum, and the Musicians Hall of Fame Museum, among other attractions. Downtown Nashville's Broadway is considered the city's"Honky Tonk Highway", with music playing 365 days of the year.  Everywhere we went – from restaurants to street buskers – we saw ample evidence of the vibrant music culture.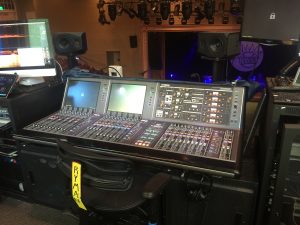 Best known as the home of the Grand Ole Opry from 1943 to 1974, the downtown Ryman Auditorium was by far the star attraction. Opened in 1892 as the Union Gospel Tabernacle, the Ryman gave performers and their audiences a warm, intimate space with great acoustics. While it fell on hard times for a while after the Opry moved to their new location, the Ryman has been lovingly restored both for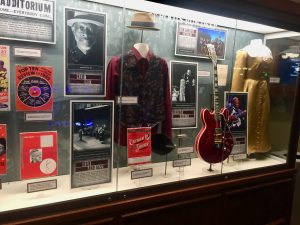 tours and for regular use as a venue. I noticed that Canada's k.d. lang performed there just a few weeks prior to our arrival.  Betty & I enjoyed seeing her live in Winnipeg– especially her moving rendition of Leonard Cohen's Hallelujah. It would have been a fitting song for this former grand tabernacle!
Of course, no visit to Nashville is complete without a visit to the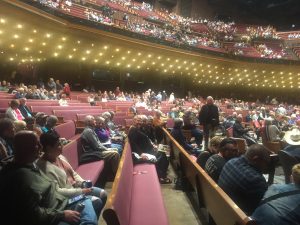 Grand Ole Opry. Opened at its much larger current suburban location in 1974, the Opry has continued the tradition of introducing upcoming country musicians, while highlighting many of the old faithful. When they moved from the Ryman, a circle of centre stage was cut out and installed in the centre of the new stage. New and old experiencing the stage lights at that spot express the feeling that they are standing on hallowed country music ground. For our visit, we had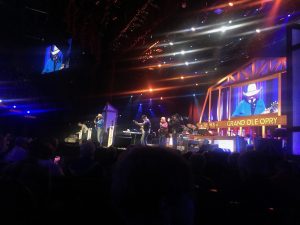 excellent seats at the front of the auditorium for a show consisting of Bill Anderson, Luke Combs, Charlie Daniels Band, Jon Pardi, Craig Morgan and Kelsea Ballerini.
Whether or not you are a fan of country music, it is well worth the experience to immerse yourself in the flood of sounds and sights at this southern city. Just don't forget your raincoat and wellingtons!
Cheers!