Betty & I have a tradition. Whenever we head out on a road trip, through the motorhome's speakers we blast Willie Nelson's "On The Road Again – like a band of gypsies we go down the highway…" He-haw!!!
Of course this year, that tradition will be preceded by another – the celebration of Christmas!
We have already attended our grandkids' school and church Christmas
concerts, and the Winnipeg Symphony Orchestra's beautiful rendering of Handel's Messiah, with the audience's tradition of standing for the Hallelujah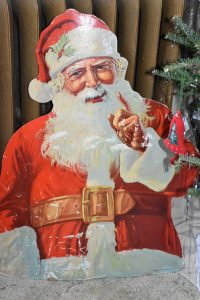 Chorus. Andrew's home is filled with the scent of pine from the tree that has been decorated with many years of children's Christmas projects: A sight to behold! Keeping watch beside the tree is the same Santa that has dutifully stood next to a Reddoch Christmas tree since 1956. He still looks pretty jolly for his age! LOL. Thankfully, we no longer use the real candles that used to clip onto the branches. Who ever thought that wasn't a fire waiting to happen? LOL.
Some other traditions are still to come. Our reservation is confirmed at the same Chinese restaurant our family has visited a day or two before Christmas for the past 30 years. I will (usually unsuccessfully) invite our family to stand at attention for the singing of "God Save The Queen", and the always encouraging Queen's Christmas Message which is broadcast on the 25th, another tradition started when our family immigrated to Canada, as we thought about our extended family in Britain doing the same.
The turkey is on hand, along with the Christmas crackers that will adorn each place setting on the 25th. The day will start with the reading of the account of Jesus' birth, from our family Bible that has been passed down from the early 1800s. And of course we smile at the grandchildren's eager anticipation of what will be found in their stockings, which are now hung around the fireplace.
But as we consider the kids' excitement about the Christmas festivities, we can't help but think about what is to come next, and our similar child-like enthusiasm for the journey ahead…
Cue Willie!